Over 3 million Floridians are expected to travel 50 miles or more over the Thanksgiving holiday season, according to AAA. With 87,000 (3%) more vacationers anticipated than in the previous year, this year's projection is the biggest since 2005.
Road trips Over Thanksgiving is the Second Highest on Record in Florida
Most Thanksgiving travelers will road tripping to their destinations. According to AAA, about 2.8 million Floridians will travel 50 miles or more by car. This breaks down to 71,000 more Florida drivers on the road (+2.6%) than there was the previous year. The amount of auto traffic expected this year is 10,000 less than the record high, which was reached over the Thanksgiving weekend in 2005.
What Are the Best/Worst Times to Drive?
Wednesday, November 22, is predicted by INRIX, a provider of transportation data and insights, to be the busiest day on the roads throughout the Thanksgiving holiday travel period, with average travel times in some metro areas reaching 80% longer than usual. For the best chance of avoiding the worst holiday traffic, INRIX advises departing early in the morning or after 6 p.m.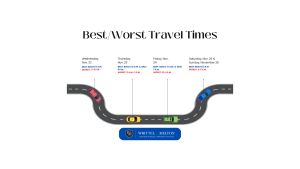 Need Tips for Your Thanksgiving Road Trip?
Get your car inspected thoroughly before hitting the road.
Before you drive, set up your GPS.
Keep an emergency supply kit close at hand. It should, at the very least, contain jumper cables, a flashlight, flares, blankets, extra water, snacks, towels, and a first aid kit.
Plan backup routes in case there are traffic jams or road closures.
To ensure that you are not rushing, leave early and give yourself additional time to reach your location.
When driving, be focused and avoid distractions.
Make sure all passengers in the car are buckled up.
Always drive sober.
Take a break from driving when you need. As soon as you sense your concentration waning, pull over and take a break. Try to bring along a reliable backup driver.
Know how to get in touch with roadside assistance. Keep your insurance company's phone or AAA's number close at hand in case of emergency.
What If You Are Involved In An Out-of-State Accident?
Many people are confused about what to do after an out-of-state accident. Even though you might be protected in the event of an auto accident in another state, it could be wise to research the requirements for auto insurance in the area you want to drive. In general, regardless of the state in which an accident occurs, you will treat it in the same manner. You should also be protected by your auto insurance.
If, while on a Thanksgiving holiday road trip, you find yourself in an out-of-state automobile accident, act as though it had occurred in Florida; report the incident to your insurance company and get medical care when necessary.
Our Florida Car Accident Injury Attorneys at Whittel & Melton will be available 24/7 this Thanksgiving holiday to help guide you through an accident and what steps to take next.
We provide free consultations – you can call us anytime at 866-608-5529 or contact us online.
From all of us at Whittel & Melton, we wish you and your family a very happy and safe Thanksgiving holiday!