Celebrating the Fourth of July is one of the best ways to welcome summer. This national holiday in the United States is one of the most eagerly awaited events of the year. There are numerous ways to have fun on the Fourth of July, including outdoor events like pool parties, backyard BBQs, and fireworks displays. If safety is not prioritized at these events, the holiday can also bring about catastrophe.
These Fourth of July safety recommendations from our personal injury attorneys at Whittel & Melton can help you enjoy Independence Day safely.
The Most Dangerous US Holiday
Over the Fourth of July weekend, the National Safety Council (NSC) predicts that over 619 people will pass away on the road and over 70,600 will have nonfatal injuries for which they will seek medical attention. The Fourth of July is the deadliest holiday of the year in the United States, and it is not only because of traffic accidents. When everyone is in the mood to party with explosives and safety is put on the back burner, unintended injuries and mishaps can happen in a matter of seconds.
Additionally, one of the busiest travel weekends of the year is the one before the holiday. Accident risk is multiplied as a result of increased traffic and airport passenger flow. Add alcohol and/or drugs to this and you have a recipe for disaster.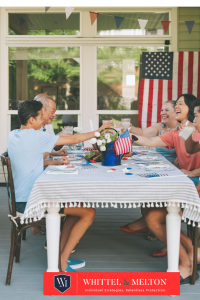 Fireworks Safety: Know the Laws
On the Fourth of July, Roman candles, airborne fireworks, fountains, and other novelty firecrackers are allowed to be set off in Florida. On all other days of the year, all loud or projectile fireworks are strictly forbidden.
You can read more about fireworks safety here.
Grill and Burn Injuries
On July Fourth, careless use of pyrotechnics is the primary cause of most burn injuries. Over the holiday, improper grilling can also result in life-threatening burn injuries. The National Fire Protection Association (NFPA) reports that from 2017 to 2021, there were 22,155 emergency room visits annually as a result of grill-related injuries.
Here are a few grill safety tips that can keep you and your guests safe this Fourth of July holiday:
Never leave a grill unattended. Always make sure an adult is watching any open flames—preferably someone who is sober.
Place the grill outside in a well-ventilated location at least 10 feet away from buildings, trees, or anything else that can easily catch fire.
Do not light coals that are already on fire with lighter fluid.
Keep a fire extinguisher nearby.
If you or someone you love suffers a burn injury as a result of someone else's careless behavior, make sure to you make getting medical care your number one priority and then contact our Florida Injury Lawyers at Whittel & Melton.
Pool Safety
A backyard pool party can increase the excitement of a Fourth of July party and keep everyone cool from the heat of the summer. However, if the necessary precautions to ensure safety are not taken, swimming pool mishaps can happen.
Make sure all younger swimmers are well watched while in the water, and forbid any rough play. When planning a pool party, consider the level of experience of each swimmer. Any games and pool gadgets that pose serious safety dangers should be banned. Additionally, make sure there are enough of life jackets and other flotation devices that are Coast Guard approved are available in case of emergency.
Here are a few tips to keep in mind when having people over for a pool party:
Never allow someone to swim alone. It is always better to have another person nearby who can assist in case there is a drowning incident.
Never run near the pool. This is one of the most common reasons for slip and fall accidents.
Never dive. Most backyard swimming pools are not deep enough for safe head-first diving.
Stay alert. Pay attention to what is going on around you so you can help, if needed, or take the right precautions to prevent any injuries.
Have a CPR-trained adult present in the case of emergency.
Try to keep people away from the pool who are obviously drunk.
Enjoy the Holiday Safely And Contact Us if You Need Assistance Continue reading