The driver of a girls home van involved in an Alabama interstate crash that killed eight children has filed a lawsuit against trucking companies in California and Georgia as well as another driver, according to reports. 
The federal lawsuit is seeking an unspecified amount of money and involves the director of the Tallapoosa County Girls Ranch who was trying to help free the victims involved in the fiery crash. Two of the women's children and two of her nephews were killed in the collision. 
The woman was pulled from the van by others nearby and rushed around trying to free anyone else she could, but was unable to because of the flames and damage.
The suit said that all of the children were killed by the fiery crash. In total, eight children ranging in age from 3 to 17 died in the van. 
The woman driver of the van that was rescued from the crash suffered bruises, burns, and severe emotional and mental distress. 
In a separate crash, a Tennessee man and his daughter also died on Interstate 65. 
The lawsuit names the California-based Hansen & Adkins Auto Transport and Asmat Express of Clarkston, Ga., which both were identified by the National Transportation Safety Board as being involved in the crash. The suit also named an Asmat driver. 
None of the companies involved have made a comment.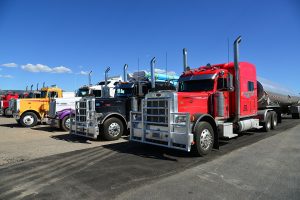 The woman was driving the van on the left lane of Interstate 65 heading north when the Hansen & Adkins truck failed to stop in traffic, struck an SUV and swerved into her lane. The van was then struck from behind by the Asmat Express truck, according to the lawsuit. 
The lawsuit alleges that the crash should not have ever happened. The trucks were not equipped with anti-crash safety technology and the drivers were going too fast, distracted or following too closely. 
A preliminary report by the NTSB recounted the crash similarly to the lawsuit, but did not place blame on a certain party or say what exactly caused the wreck. 
You can be the safest driver on the road, but when another driver on the road acts carelessly or negligently, then all bets are off. While any car accident can result in severe injuries, semi truck collisions can result in even more severe injuries or as this case shows, wrongful death. If you have had a loved one pass away as a result of a tragic accident with a semi truck driver, then our Florida Truck Accident Lawyers at Whittel & Melton can help you take the appropriate steps to help you recover compensation for your suffering. While nothing we do can bring your loved one(s) back, it can hold the at-fault party responsible for their recklessness and prevent them from ever repeating their actions. It can also reward you with the financial compensation you need to move forward with your life as best as you can. 
The sad truth is that when a truck accident happens, the truck driver usually walks away unscathed while the other parties involved are not so lucky. The Federal Motor Carrier Safety Administration (FMCSA) has studies that show 87% of all trucking accidents are caused by driver negligence. Negligence can include the following behaviors: 
Driver Fatigue

Speeding 

Distracted Driving 

Driving Under the Influence of Drugs and/or Alcohol

Inadequate Training 

Travelling Too Fast for Road Conditions

Unfamiliar with the Roads

Cargo Shift 

Wide Turns
As legal experts in the field of commercial truck accidents, our Florida Truck Accident Lawyers at Whittel & Melton will thoroughly investigate every truck accident that is brought to us in order to determine exactly what caused the collision. We will start by investigating whether the truck companies involved in the crash and the driver violated any state and federal regulations. We will do this by using the following tools: 
Reviewing Truck Log Books

Reviewing Truck Maintenance Logs 

Drug and Alcohol Tests

Looking into Weight Restriction Compliance 

Making sure the Company Fulfilled Safety Inspection Requirements 

Making sure the Company was in Compliance with Loading Procedures