A 27-year-old man attending the Steelers game on Sunday died after falling 40 feet from an escalator around 4:30 p.m. after the game ended and crowds of fans were exiting Acrisure Stadium.
According to reports from the Pittsburgh Department of Public Safety, EMS responded to a "fall from height" call around 4:45 p.m. at Acrisure Stadium, minutes after the Steelers lost to the Jets.
They tended to the man at the scene, and transported him to a local hospital where he died from his injuries.
The Steelers released a statement Sunday evening stating that they were aware of the situation and would assist police in any way to further investigate the matter.
Escalators are easily accessible in airports, large buildings, shopping malls, and stadiums and other large venues. While these devices are certainly convenient for the masses, they are also heavy machines that have many moving parts, so things can go awry very quickly.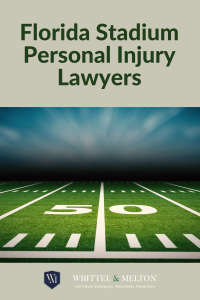 While we do not often hear about escalator incidents in the news and other media outlets, when these accidents do happen, they are usually unexpected and leave victims suffering from serious injuries if they are lucky enough to survive. After such a tragedy, victims and their families may be wondering who is liable. Is the stadium owner or manager responsible for legal damages?
If you or someone you love has been injured or killed because of a dangerous condition or defect at a sports venue in Florida, then our Florida Stadium Injuries Lawyers at Whittel & Melton can help protect your rights. Under premises liability laws, you may be entitled to financial compensation for personal injury or wrongful death damages after a slip and fall or trip and fall at a stadium if the venue's owner or manager failed to live up to their obligations and keep their premises safe to all spectators and visitors.
What Causes an Escalator Accident?
Escalators are comprised of many moving parts, so when they are poorly designed or maintained, things can go wrong in an instant. The most common escalator accidents happen due to:
Fingers getting trapped
Escalators changing direction – leading to a pileup
Limbs getting trapped between steps
Missing comb plates
Missing foot brushes
Overcrowding
Gaps in plates or steps
Flaws in the escalator design
Clothing and limbs getting stuck in machinery
Poor lighting
Loose or missing screws
Emergency shut-off buttons that fail
Defective handrails
Slip and Fall or Trip and Fall Incidents at Stadiums
In order to be successful in a Florida stadium injury or wrongful death lawsuit, it must be shown that the property owner or manager was negligent. Whether filing a claim against Tropicana Field, Silver Spurs Arena, Raymond James Stadium, Pensacola Bay Center, Marlins Park Lockhart Stadium, Lakeland Center, Jacksonville Veterans Memorial Arena, Hard Rock Stadium, Germain Arena, Florida State Fairgrounds Complex and Expo Hall, FIU Stadium, First Data Field, FAU Stadium, EverBank Field, ESPN Wide World of Sports Complex, Donald L. Tucker Civic Center, Doak S. Campbell Stadium, CFE Federal Credit Union Arena, Camping World Stadium, Bright House Networks Stadium, Bragg Memorial Stadium, Ben Hill Griffin Stadium, BB&T Center, Amway Center, AmericanAirlines Arena, or Amalie Arena, plaintiffs must be able to prove the following elements:
The stadium or sports venue owed you a duty of care
The owner or manager of the venue knew about a hazard, or should have known about the hazard, and failed to remedy the situation or failed to warn all visitors of the danger
The negligence of the owner or manager contributed to your injuries (or the death of a loved one) in some way
Economic damages were suffered as a result of the accident, such as medical bills, lost wages, funeral expensed, and other financial losses
Stadium accidents can lead to life-long injuries, and in the most severe cases, death. If you were injured or if you have lost a loved one at a sport venue or stadium that was caused by some form of negligence, then you deserve to be compensated for your losses. Our Florida Stadium Injuries Lawyers at Whittel & Melton welcome urge you to meet with us in a free consultation so that we can answer all of your questions. Call us now at 866-608-5529 or contact us online 24/7.