April is Distracted Driving Awareness Month and our Florida Car Accident Lawyers at Whittel & Melton want to remind you to put your cellphone down and focus on the primary task at hand – just drive. In fact, the National Highway Traffic Safety Administration (NHTSA) urges everyone to pledge their commitment to refrain from distractions behind the wheel by using social media to spread the word – #JustDrive.
We want everyone to be aware of the deadly epidemic that is happening on not just Florida's roads, but nationwide. Distracted driving was responsible for the deaths of 3,522 people in 2021. From 2012-2021 it is estimated that 32,000 + lives have been lost due to distracted driving. With that said, this month is a great time to regroup and recommit to avoiding distractions when behind the wheel. Cell phone use is the most common form of distracted driving, specifically, social media use, talking, and texting. Other risky behaviors include eating, drinking, applying makeup, and adjusting radio dials or GPS systems.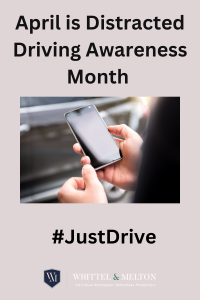 Our Florida Car Accident Lawyers at Whittel & Melton urge you to drive responsibly and follow these tips for a safe ride:
Pull over and park your car in a safe location before you send a text.
If you have a passenger, then allow them to be your designated texter for sending and replying to text messages.
Never scroll through your apps while driving. If you are struggling with this, then we suggest placing your phone in the trunk, glove box, or even back seat until you arrive at your destination.
Know the Consequences
During the month of April, you can expect to see increased law enforcement on the roads as a part of the NHTSA's media campaign "U Drive. U Text. U Pay." In the state of Florida, you can receive a ticket/fine for texting while driving, and your insurance rates could increase from this. The risk of causing a serious accident resulting in catastrophic injuries or even death is far greater than a minimal fine, so if you plan to drive, then please put your phone down.
Remind your friends and family of the risks of distracted driving and if you are in the car as a passenger, hold them accountable by telling them to stop and focus on the road. When you are behind the wheel of a car, driving is the only thing you should be doing. No distractions, whatsoever.
Were You Involved in a Car Accident with a Distracted Driver? We Can Help.
If you were harmed in a car accident caused by a distracted driver, then our Florida Car Accident Lawyers at Whittel & Melton can help you determine your best course of legal action. We can assist with personal injury or wrongful death lawsuits arising from negligent, careless, and/or distracted motorists. Call us now in Florida statewide at 866-608-5529 or contact us online 24/7 to request a free consultation.