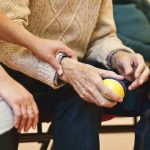 A nursing home in Baker County that saw a sudden spike of 10 coronavirus cases said the illness was bought into the facility from someone who was recently moved to the facility.
The Macclenny Nursing and Rehab Center suddenly found that 10 patients in the facility had been infected with COVID-19 as of Thursday. Only one other case of the infection had been reported in the county prior to the outbreak in the nursing home, the Florida Department Health data showed on the coronavirus dashboard.
Susan Kaar, vice president of compliance and quality management for the nursing home's owning company Southern Healthcare Management LLC, said the facility's first confirmed case was a resident who was admitted to the center after being at a local hospital. While monitoring residents, the center noticed others displaying symptoms associated with COVID-19 and tested them. The virus spread rather quickly. All victims of coronavirus were transferred to a local hospital. 
As a proactive and preventative measure, all patients and staff were tested for the virus. This is when the additional cases were found. 
It is unclear how many of the 10 victims were elderly patients and how many were staff. 
The facility says it is collaborating with the local Department of Health. .
Baker County Commission Chair James Bennett Friday said county first responders have handled the situation and the jurisdiction is taking the outbreak in stride.
As of Monday, the DOH coronavirus dashboard said Baker County had 12 victims of the illness with no deaths. The dashboard indicates the age range of the 12 victims is 24 to 97. 
The total number of COVID-19 cases in Florida is at 12,350, as of Monday. The number of residents that have tested positive for coronavirus are 11,961. The number of hospital admissions are 1,555 and the number of deaths are 221. 
Due to the coronavirus pandemic, nursing homes are experiencing a shortage of caregivers. Regulators are now allowing "personal care attendants" to perform more hands-on functions normally handled by certified nursing assistants, according to the state Agency for Health Care Administration. In addition, the state of Florida is temporarily waiving a live-scan fingerprinting requirement for new employees who work with residents because fingerprinting vendors are shut down, according to an emergency order. Instead of fingerprinting, nursing homes are required to conduct background checks through several sources, according to the order. The waiver is in effect for 30 days and is due to expire April 27 unless extended.
Nursing Homes Still Have a Duty of  Care to Residents 
Florida nursing home and assisted living facilities owe their residents a duty of reasonable care to prevent the spread of coronavirus. Elderly nursing home residents and residents with underlying health issues are at an increased risk of dying from coronavirus. Because of this, nursing homes and assisted living facilities must take extra precautions to prevent coronavirus from spreading throughout their facilities. 
When nursing homes and assisted living facilities do not take the necessary steps to protect their residents from coronavirus, this could translate to negligence. Any residents who suffer harm or die from being infected with coronavirus have a legal right to bring a lawsuit against a negligent nursing home or assisted living facility.
Nursing Homes Must Take Extra Precautions
The Centers for Disease Control (CDC), advises healthcare employees to follow very strict procedures for preventing the spread of viruses, including the following:
Staff should wear personal protective equipment

Staff should restrict visitors from coming into contact with infected patients

Staff should practice proper hand hygiene

Staff should prevent potentially infected or infected staff members from coming into contact with nursing home patients
Filing a Nursing Home Negligence Lawsuit After Contracting Coronavirus
Nursing homes that fail to take the necessary steps to prevent coronavirus from spreading can be held legally responsible for any suffering and death caused by the virus. Let's say an infected nursing home staff member contracted the virus and exposed a resident to it after failing to wear protective gear around the resident. The resident may very well have a valid claim for a negligence lawsuit.
Contact Our Nursing Home Neglect and Abuse Attorneys at Whittel & Melton 
If you or a family member have contracted the coronavirus due to an understaffed or otherwise negligent nursing home or assisted living facility in Florida, then you may have a valid personal injury or wrongful death claim. Our Florida Nursing Home Negligence Attorneys at Whittel & Melton are here to help you understand what can be done to protect your loved ones who have contracted the coronavirus.