The U.S. Department of Transportation's National Highway Traffic Safety Administration (NHTSA) has released its preliminary data for January-September (the first nine months of the year) for 2021.
Their projections estimate that 31,720 people died in motor vehicle traffic crashes for the first nine months of 2021, which is about a 12% increase from the first nine months of 2020.
This projection is not just higher than 2020 or even 2019. It is actually the highest number of fatalities during the first nine months of any year since 2006 AND the largest percentage jump during the first nine months in the history of the Fatality Analysis Reporting System.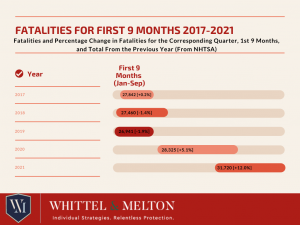 The new estimate comes a few days after the U.S. Department of Transportation released the federal government's first-ever National Roadway Safety Strategy, which is a plan to address the crisis happening across the U.S. in traffic crashes resulting in serious injuries and fatalities
According to Transportation Secretary Pete Buttigieg, there is a roadmap laid forth to address the issue thanks to the President's Bipartisan Infrastructure Law. The National Roadway Safety Strategy is the first of its kind plan focusing on reducing the number of injuries and deaths on America's roads.
The early estimate report also shows a sneak peek into state-level traffic fatalities during the COVID-19 pandemic. When compared with 2020, the first nine months of 2021 show an increase in 38 states, Florida being one of them with a jump in fatalities from 2,417 in 2020 to 2,839 in 2021 – a 17.5% increase. The NHTSA projections show that two states remained stagnant and a decrease happened in 10 states and the District of Columbia.
Data from the Federal Highway Administration shows that travel increased by roughly 244 billion miles in the first nine months of 2021 from 2020, which is an 11.7% increase.
Injured in a Florida Crash? Get the Right Legal Representation
If you have been involved in a traffic crash that was due to a careless, negligent, reckless, distracted, or even drunk driver, then you must make sure to get the right legal representation. Our Florida Auto Accident Injury Lawyers  at Whittel & Melton can provide you with the best legal counsel to handle your case. We know how car accidents can change your life in the blink of an eye. Your life can be forever changed, from physical injuries to emotional trauma, your life can be truly be flipped upside down. You may no longer be able to work or you may have lost a loved one for good. Depending on the extent of your trauma, you may be entitled to significant financial for your losses. Our Florida Auto Accident Injury Lawyers at Whittel & Melton have the best personal injury attorneys in the State ready and able to aggressively fight for your case and to get you the financial compensation you need and deserve. Call us now at 866-608-5529 or contact us online for a free case evaluation today so that you can learn more about your legal options and rights.