A 14-year-old Pompano Beach teen that was run over by a Broward County public bus remains hospitalized in critical condition and is now in a medically induced coma.
The teen apparently suffered multiple fractures to the face, ribs and an ankle.
According to the Broward County Sheriff's Office, the teenager was injured about 9 a.m. Friday as he ran for the bus near the 1200 block of East Sample Road.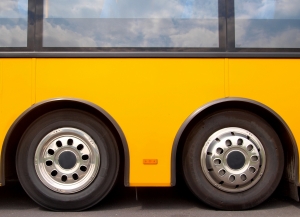 A BSO spokeswoman said the teen ran ahead of his mother to hold the bus and jumped onto the side of the vehicle. Witnesses told investigators he held on for nearly a minute and then fell. He was run over by at least one of the bus wheels.
Passengers on board the bus told police that they screamed at the bus driver to stop as the boy's arm became stuck in the door.
The incident is currently under investigation. However, the 55-year-old bus driver could face charges if investigators determine he acted criminally. The Margate bus driver has been placed on paid administrative leave pending the outcome of the investigation by BSO.
The bus driver has been employed behind the wheel for 12 years, during which he has been involved in two minor accidents, neither resulting in serious injury.
The first accident happened in September 2010, after the bus he was driving was struck by a car as he executed a right turn onto West Oakland Park Boulevard.
Then, in November 2012, the bus driver scraped the wheel well of another bus as he pulled into a bay at the central terminal on West Broward Boulevard.
Broward County's Accident Review Board said both accidents were preventable.
While we don't usually hear about bus accidents occurring in Florida every day, that doesn't mean they don't happen. Sadly, when these types of accidents do take place, victims are often seriously injured or even killed. The sheer size of these vehicles combined with speed can create serious bodily harm when an accident arises.

Victims of bus accidents may suffer head and brain injuries, spinal cord trauma, broken bones and fractures, burn injuries and internal injuries that are extremely painful and require extensive surgery and costly physical therapy and rehabilitation. These injuries could affect your life permanently, making it quite difficult to carry out daily tasks that were once simple chores.
Bus accidents may be caused by a variety of factors, including:
• Bus Driver Negligence
• Inexperience and Poor Driver Training
• Driver Fatigue and Inattention
• Bus Company Failing to Maintain Fleet
If you or a loved one has been injured or killed in a Florida bus accident caused by a bus driver or bus company's negligence, you can seek compensation for your losses. Contact a Florida Bus Accident Injury Attorney at Whittel & Melton today online or call 561-367-8777 to discuss your potential case.