In 2010 more heat stroke-related deaths were documented than any other year from kids being left inside hot cars for too long. Now, Florida health and law enforcement officials say that we are heading for another devastating year, with 15 such deaths already reported nationwide so far.
Four Florida children, ranging in age from 11 months to 3 years old, have died in the past two months after they were left behind in hot cars.
Sadly, young children are at a high risk for heatstroke as their body's heat up three to five times faster than adults. When a child's temperature reaches up to 104 degrees, their internal organs begin to shut down. When their body temperature heats up to 107 degrees, they can die.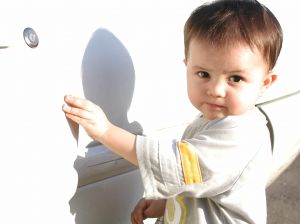 Studies indicate that Florida is second only to Texas in the most heat stroke-related child deaths per year. Since 1998, Florida has reported at least 64 child deaths related to heat stroke.
So far this year Florida has reported the following incidents:
• On June 22, a 3-year-old boy passed away from heat stroke after he was forgotten in a car for about three hours in Manatee County while his family attended a funeral.
• On June 2, a Pensacola toddler wandered inside the family car and was found dead on the floorboard several hours after the 2-year-old was reported missing by family members.
• On May 24, a Highlands County mother left her 18-month-old daughter in a hot car for nearly two hours. The baby suffered heatstroke and died. Her mother has been charged with manslaughter and child neglect.
• On May 16, a Miami-Dade County mom was charged with manslaughter after locking her 11-month-old son inside her car where he died from heat exposure.
Another 11 children across the county were killed in similar instances this year.
According to Safe Kids Worldwide, heatstroke is the leading cause of non-crash, vehicle-related deaths for kids. In fact, on average, every 10 days a child is killed from heatstroke after being trapped inside a vehicle.

As a parent, guardian, family member or babysitter, you can reduce the number of deaths from heatstroke by remembering to ACT.
A: Avoid heatstroke-related injuries and death by never leaving your child behind in a vehicle, not even for a minute. Florida's hot summer temperatures can be too much for a young child to handle when left alone in a car, so make sure you keep your vehicle locked when you are not in it so that your child cannot get inside on their own.
C: Create reminders so that you do not accidentally forget your child is with you in the car. Keep a teddy bear in the front seat to serve as a reminder or place something that you will need once you reach your final destination in the back seat next to your child, like a cell phone, purse or briefcase.
T: Take action. Should you spot a child alone in a car, call 911 immediately. You never know how long that child has been inside the car, so it is important to have emergency personnel respond to the situation. Making just one phone call could save an innocent child's life.
Unfortunately, heat stroke-related tragedies do happen. If your child has been injured because of the negligence of another party, a Florida Child Injury Lawyer at Whittel & Melton can help. Contact us today online or call us statewide and toll-free at 866-608-5529 for a free consultation.