Whittel & Melton is pleased to announce that its founding partner Jason M. Melton has been named to America's Top 100 High Stakes Litigators® again for 2021, an annual listing that highlights the most exceptional attorneys throughout  the country in high value and high stakes litigation matters. Jason Melton has been distinguished among his peers for 2020 and 2021 as America's America's Top 100 High Stakes Litigators®.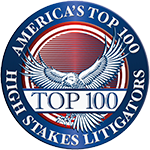 In order to be considered for the high honor of America's Top 100 High Stakes Litigators®, an attorney must meet specific criteria, including litigating business matters for a plaintiff or defendant with at least two million dollars at stake. Candidates are then screened meticulously through data analysis of their professional experience, litigation experience, their case results, their peer reputation, their high stakes litigation matters, and the impact they have on their community. Once they are ranked accordingly, less than one-half percent (.5%) of active attorneys throughout the country will receive the high honor of being named an exclusive and high level top litigator. To learn more about this great achievement, click here. 
Jason Melton is a skilled personal injury, wrongful death, and criminal trial attorney in the state of Florida. He has battled against large insurance companies and major corporations in the civil arena, which has earned him the honor of being a high stakes litigator. Jason has been a past president and treasurer of the Hernando County Bar Association and is active in many local charities, including two annual college scholarship programs that he founded. Jason has also earned an AV Preeminent rating by Martindale-Hubbell, and has been listed among Florida's Super Lawyers. He is a founding member of the National Academy of Motorcycle Injury Lawyers and was named Top 20 Motorcycle Injury Lawyer in the United States in 2020.
If you or someone you care for has suffered an injury or wrongful death due to the negligence of another person, Jason Melton and the rest of the staff at Whittel & Melton are available 24/7 to help you with your legal matter. We encourage you to reach out to us today for a free consultation by calling us at 866-608-5529 or contacting us online. We have several convenient office locations throughout the state of Florida, and if you are unable to come to one of our offices to meet with us, then we will happily come to you.