Memorial Day weekend marks the start of the summer for many Americans. Beer will be flowing, and barbecue grills will be lit. While most Memorial Day celebrations are enjoyable and safe events, accidents do occasionally occur and people get hurt. If you are hosting or attending a Memorial Day party, our Florida Personal Injury Attorneys at Whittel & Melton have some helpful advice for you.
Memorial Day Safety Tips for the Party Hosts
Adult supervision: During your barbeque, appoint a rotating team of one to three adults to keep an eye on kids playing, especially close to the grill or fire pit. Stop any dangerous activities before they start, like jumping off patio furniture and marshmallow roasting stick sword fights.
Grills: To minimize burn injuries, place grills about 10 feet away from people.  Furthermore, one of the primary causes of barbeque fires is leaning your bag of charcoal against the grill; refrain from doing this. After you have finished grilling, let the coals cool for a while before pouring water on them. You can view more tips on grilling here: Grill Tips
Standing water: Backyards may have standing water areas. Standing water is a mosquito breeding ground and a slip and fall hazard. Of course, empty any containers that have water, including the tarp that covers any backyard boats that may have collected rainwater. Place temporary ground covers or just rope off portions of your yard that have standing water.
Pets: While your precious pup may not hurt a fly, sometimes large crowds can cause them to exhibit erratic behaviors. Secure pets in areas where kids and even adults will not be in danger.
Swing sets and other outdoor play equipment: Swing sets should be anchored and level. You will want to inspect tree houses and other play structures for any cracks, holes, or exposed hardware that could cause injury. If you have a trampoline, make sure it is anchored securely before you allow any jumpers inside. An adult should always supervise jumpers.
Swimming pools: Make sure you have adults always supervising tiny swimmers. Drowning is the leading cause of death in children ages 1-4, so keep this in mind. Make sure you have fences, alarms, and covers for your pool and keep all chemicals locked away. Flotation devices do not prevent drowning, so you still need to supervise children who are wearing floaties. Do not run around the pool. Tell kids to refrain from pushing or dunking people in the pool, as well as playing any hold your beath underwater games. If there is bad weather, like lightning, then get out of the pool immediately.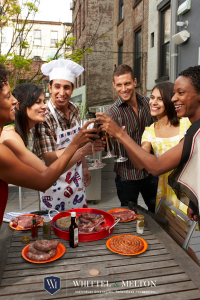 Memorial Day Safety Tips for the Party Guests
You should take precautions to avoid getting hurt when you are celebrating Memorial Day on someone else's property. Here are some common reasons slip and fall and trip and fall accidents occur:
Wet or slick floors
Unsecured carpets or rugs
Cracked or broken sidewalks
Cracked or broken stairs
Extension cords that are loose
If you or a loved one is harmed in an accident this Memorial Day weekend, then you need to get medical care as soon as possible. Once your injuries have been handled by a medical professional, then you should contact our Florida Personal Injury Lawyers at Whittel & Melton. We can help you pursue financial compensation for lost wages, medical bills, and other damages.
Sometimes an unsafe accident scene does not necessarily indicate that the property owner was careless. As the injured party, you must establish that the property owner was aware of the harmful condition yet did nothing to address it. Our attorneys have a wealth of knowledge demonstrating that property owners failed to take reasonable safeguards and endangered visitors.
You can contact us online 24/7 or you can call us any time of the day or night at 866-608-5529. Your consultation with us is always free.
Have a safe and happy Memorial Day weekend!