The National Highway Traffic Safety Administration (NHTSA) is warning consumers to avoid purchasing aftermarket steering wheel decals as they may detach in a collision and cause very serious injuries or death.
The NHTSA reports that at least one motorist suffered the loss of sight in one eye when a rhinestone embellished aftermarket emblem dislodged from the steering wheel in a crash and hit her in the face.
The item in question is a metal or plastic plate with an adhesive back that covers the vehicle's logo in the center of the steering wheel.  It is typically adorned in rhinestones or other shiny embellishments. When an air bag deploys in a collision, the product may become a projectile that causes significant harm or even death.
These aftermarket decals, unlike the permanently mounted insignia on your vehicle's steering w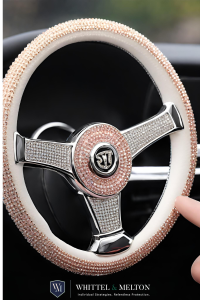 heel, can readily become detached when the air bag deploys.  Your air bag may also stop working properly if you make any modifications to it or its cover.
The NHTSA has released a warning asking consumers to avoid purchasing these potentially dangerous decals.  If you have already purchased one and applied it to your steering wheel, the NHTSA urges you to remove it promptly to avoid any potential injuries.
Why Is Bling on Your Steering Wheel Dangerous?
These shiny, gemstone encrusted decals go over the steering wheel, which is where the driver's side airbag deploys in the event of a crash.  This is essentially placing a fragile item on top of an explosive. If a crash occurs, the stones from the cover could separate and become airborne shrapnel scattering about the vehicle that could cause harm to vehicle occupants.
Though aesthetically pleasing, these diamond or rhinestone embellishments are not safe.  You may be entitled to compensation for losses such as medical costs, lost wages, hospitalization, rehabilitation costs, pain and suffering, and emotional anguish if you were hurt by products manufactured using defective components.  Our Florida Injury Lawyers at Whittel & Melton can offer you a free consultation about your legal rights and alternatives.
Call us now at 866-608-5529 or contact us online 24/7 to learn more about how we may be able to help with your personal injury claim.