An Orange County sheriff's deputy responding to a call in the early morning hours on Monday struck and killed a pedestrian in Orlando, according to the Florida Highway Patrol.
The 38-year-old Orlando deputy was not injured in the crash, which occurred around 3:15 a.m. on Oak Ridge Road near Orange Blossom Trail.
According to the FHP, two deputies were headed to a burglary call, and the first deputy cruiser had its flashing lights and siren on. A pickup truck in the area pulled over for the deputy, but returned to the road after the cruiser passed.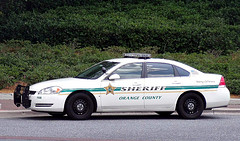 The deputy accused of striking the pedestrian was the second officer headed to the call, but did not apparently have his cruiser's flashing lights and siren on. He switched lanes to pass the pickup when he struck the 34-year-old woman, the FHP said.
Troopers claim the impact of the crash caused the woman to hit the side of the pickup.
The woman was taken to Orlando Regional Medical Center, where she was pronounced dead.
It is unknown at this time how fast the deputy was traveling at the time the accident occurred.
The deputy apparently refused to provide a statement to troopers, according to the FHP. FHP is still investigating this fatal accident.
The driver of the pickup, a 25-year-old Homestead man, did not suffer any injuries from the accident.
In time, more information will hopefully emerge about how this tragic incident came to be. If the deputy is found to have caused the victim's death through some type of negligence, he and his department may be liable for her wrongful death. As with any fatal auto accident, driver inattention, speed and reckless driving all could have been factors that contributed to the accident.
The laws regarding pedestrian  accident cases can be very complex. Wrongful death cases involve many facets of the law and are not always as straight forward as they should be. That is why surviving family members need to seek the advice of an experienced Florida Wrongful Death Lawyer at Whittel & Melton who can protect your rights and those of your loved ones. For a free consultation, please call us today toll-free at 866-608-5529 or contact us online.