A woman was critically injured in Brooklyn last week after a car hopped a curb and crashed into her, according to witnesses at the scene and the FDNY.
Witnesses and fire officials claim a black car heading south on Court Street in Brooklyn Heights made a right turn onto Atlantic Avenue when it was struck by a truck around 12:50 p.m., causing the driver to lose control.
The injury victim was standing at the corner when the black car jumped the curb, striking her and crashing into a Rite Aid at the corner, according to a witness.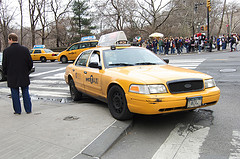 A witness of the crash told investigators the following: "The car hit a lady and she fell on the ground. She just went unconscious, her leg bones were sticking out."
The injured woman was rushed to Lutheran Hospital in critical condition.
Sadly, drivers of taxicabs, cars, trucks, city buses and all other vehicles do not always observe the rules of the road, especially when it comes to pedestrians at crosswalks and intersections. In fact, statistics from 2012 show that more than 15,000 New York pedestrians survived a collision with a motor vehicle. Unfortunately, another 312 people were killed in pedestrian-related collisions.
With thousands of residents and tourists throughout New York on any given day, it is not uncommon to hear about pedestrian accidents. When a pedestrian is injured by a negligent, careless or reckless driver, the results are often severe, and sometimes fatal. If you or a loved one has been involved in a pedestrian accident, do not wait to contact an injury lawyer to help with your claim. An aggressive Brooklyn Pedestrian Accident Injury Lawyer at Whittel & Melton can fight on your behalf. You may be entitled to significant financial compensation to assist in your recovery. Call 866-608-5529 or contact us online to learn about your legal rights and how you can hold the responsible party accountable for your losses.