A woman accused of leaving two children unattended inside a hot car in October was arrested Tuesday, according to the Palm Beach County Sheriff's Office.
The arrest report states that the woman was shopping at a strip mall in the 6500 block of Lantana Road in Lake Worth on Oct. 29. She apparently went into a store to make arrangements for a child's birthday party, leaving two children, ages 2 and 4, alone for about 15 minutes in a van that was turned off and had the windows rolled up.
While she was inside the store, a woman who was attending her daughter's dance class next door heard screaming coming from the van as she walked by. She told police she saw the children sweating profusely and noticed that one of them had vomited.
The woman ran into her daughter's dance studio and asked the other mothers if anyone had left children in a red van. The dance moms ran out of the studio and tried to get into the car. One woman called 911 and the others ran inside the various stores at the strip mall to try and track down the driver.
When the driver was located she used her key remote from inside the store to open the rear hatch. Three of the dance moms went inside the vehicle to help the two children.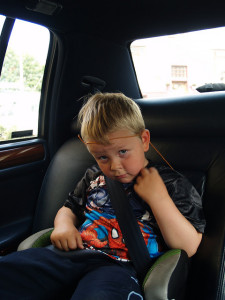 A responding sheriff's deputy asked the woman whether the children were all right, but did not immediately arrest her.
Deputies said in the report that the outside temperature at the time was about 82 degrees.
The woman is now charged with child neglect.
A car interior can reach 109 degrees after sitting for just 10 minutes on a sunny 90-degree day. For every 10 minutes a vehicle sits in the sun, another 10 degrees is added. If your vehicle is sitting in a parking lot on a warm 90-degree Florida day for just an hour while you shop, the the interior of your car can actually reach 133 degrees in one hour.
With that said, the interior of your parked car is clearly not an ideal place for any living things, especially children and pets. Children and pets should never be left alone in a parked vehicle when the weather is hot. When children and pets are left in hot vehicles, they are at risk for heatstroke or even death. If you see a child or pet left in a closed car without an adult present, call 911 immediately. Even if children or pets are left in the car for just a few minutes, the car can still heat up to deadly temperatures very quickly!
A Florida Injury Lawyer at Whittel & Melton can help if you have suffered an injury due to another person's negligence. For a free consultation regarding your injury claim, please call us today at 866-608-5529 or contact us online.