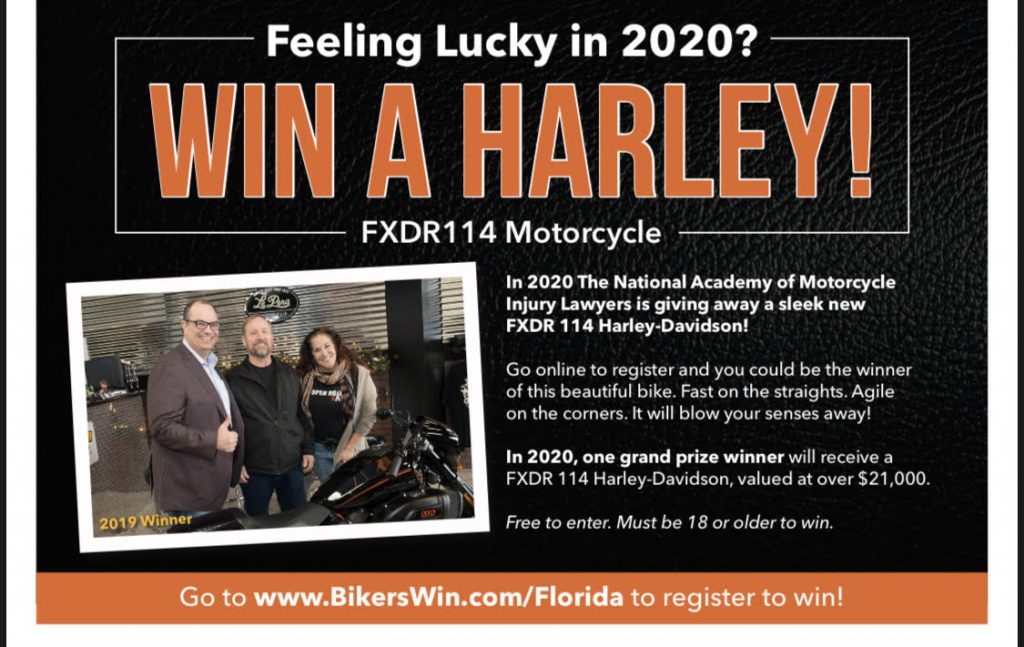 Whittel & Melton, award winning Florida motorcycle injury lawyer Jason Melton and the National Academy of Motorcycle Injury Lawyers (NAMIL) is bringing back their ​online giveaway​ for 2020, and you could be the lucky winner of a brand new 2020 FXDR 114 Harley Davidson Motorcycle valued at over $21,000.00. 
The Harley FXDR™ 114 is a bike that boasts some pretty bold features, some say it will blow away your senses. If you're looking for a bike with agility, speed, and a massive amount of torque, this is the bike for you. And yes, it looks as good as it rides. 
Looking to upgrade your bike? Looking to become a new motorcycle rider? We welcome you to enter the giveaway HERE. The deadline for entry is Saturday, October 31, 2020 at 11:59:59 PM ET. We have limited this contest to only one entry per person.
Whittel & Melton Are Founding Members of NAMIL 
The National Academy of Motorcycle Injury Lawyers (NAMIL) was created by a personal injury attorney passionate about protecting the rights of motorcyclists everywhere. Our Florida Motorcycle Injury and Death Attorneys at Whittel & Melton helped found NAMIL and we proud to be able to help bikers throughout the state of Florida. We have considerable experience handling motorcycle injury and death claims and have been recognized as being able to handle complex motorcycle injury claims with compassion, professionalism, and excellence. As NAMIL members, we are always looking to expand our practice and are constantly studying and furthering the development of motorcycle law to better help serve our community of motorcyclists. 
We Are Here to Help with Motorcycle Crashes in Florida 
According to the National Highway Traffic Safety Administration, there were 4,985 motorcyclists killed in 2018, the latest year for motorcycle crash statistics. Our Florida Motorcycle Injury and Death Attorneys at Whittel & Melton are dedicated to protecting and upholding your rights as a motorcyclist. We are proud to serve the entire state of Florida and provide you with the expert legal services you need if you have been injured or lost someone close to you in a motorcycle crash. 
If you already own a motorcycle, then you know what it feels to experience the love for the open road. Getting on your motorcycle and cruising the streets and highways is a passion for many, and our team of injury lawyers understand that. Motorcycles have just as much a right to be on the road as any other car or vehicle. But the truth is, motorcycling can definitely be a dangerous activity. The latest data from the NHTSA also shows that motorcyclists are about 28 times more likely to be killed in a motor vehicle crash in comparison to passenger car occupants. Motorcycling, just like any activity, can be a hazard, but you can be safe on your motorcycle by having good balance, coordination, and always using your best judgment. 
Florida has the perfect weather for motorcyclists to ride pretty much year round. We want all motorcyclists to be safe out on the roads, so we recommend making sure you are road ready before you ever take your bike out. 
First things first, you should be properly licensed before operating a motorcycle. Driving a car and driving a motorcycle require different skill sets. To obtain a motorcycle license in Florida, you must have a valid driver's license and complete a basic rider course. You can learn more about all the requirements by visiting the Florida Highway Safety and Motor Vehicles (FHSMV) website. 
Once you are properly licensed, we recommend getting some good practice in before entering the highway full throttle. You want to get familiar with your bike and make sure you are comfortable with operating it before you enter into traffic. Weather conditions can change in the blink of an eye, so it is a good idea to learn how to handle various hazards like wet or slick roads, debris, and potholes before you venture out. 
Once you are ready to ride, you want to check your bike for any possible issues before taking it out. Tire pressure, headlights, fluid levels, hand and foot brakes, and signal indicators should be checked before taking any trips, long or short. Another good thing to check for is a potential gas or oil leak under your bike. 
If you have ever been involved in a motorcycle collision, then you know how scary it can be. We want to assure you that you do have rights as a motorcyclist, and our Florida Motorcycle Injury & Wrongful Death Attorneys at Whittel & Melton are here to protect them. If you or a loved one has been in a motorcycle accident in Florida, we are here to help 24/7. We are more than happy to answer your questions and provide you with a completely free consultation so that you can learn more about whether you have a valid personal injury or wrongful death claim. 
Don't forget to enter our 2020 giveaway for a brand new 2020 FXDR 114 Harley Davidson Motorcycle valued at over $21,000.00. Click HERE to enter now!