A Bradford County school bus carrying 15 elementary school students was rear-ended by a big rig Monday afternoon near the intersection of U.S. 301 and State Road 201A in Lawtey.
According to the Florida Highway Patrol, there were 10 people transported to area hospitals – the 35-year-old driver of the log-hauling big rig and his female passenger were taken to Shands in Gainesville with critical injuries, and seven children and the bus driver were taken to area hospitals with non-life-threatening injuries.
Authorities believe the most serious injury among the children was a leg injury.
According to the sheriff's office, the woman in the semi was not wearing any clothes. Troopers gave her a towel to cover up in front of the children.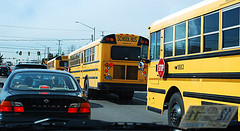 Witnesses claim the semi was travelling at 60 mph when it slammed into the bus, which investigators said had its crossing arms out and lights flashing.
The crash happened on U.S. 301 near Northwest 183rd Street at about 2:45 p.m. As the school bus was coming to a stop, it was struck from behind by the semi, which is owned and operated by Mo's Trucking out of Palatka.
The Sheriff's Office said the bus driver saw the semi coming in the rear-view mirror and sped up, which possibly minimized the impact. If the bus had been stopped to unload students, the crash could have been tragic.
Witnesses claim the truck driver never hit the brakes, as he plowed into the back of the bus and pushed it more than 50 yards into a ditch.
The FHP said dispatchers received a call about a reckless driver in a tractor-trailer on U.S. 301 before the crash occurred. However, before they could catch up with the vehicle, the state patrol and local Sheriff's Office received a call about the crash.
FHP said charges are pending. They do not have any indication that alcohol or drugs were a factor, but said speed and/or distracted driving could have played a role.
Records indicate that the driver of the semi has several previous driving citations. He had his license suspended in 2011 when his insurance was canceled, and it was suspended in 2013 for failure to pay a fine.
He was cited with driving with a suspended license in 2007 and in 2011, speeding in 2011, operating motor vehicle in unsafe condition in 2012 and a tag violation in 2013.
Accidents involving school buses can be quite traumatic. While we do not generally hear about these accidents happening frequently, they do occur, and probably more often than you think. There are an estimated 585,000 school buses operating in the United States right now. School bus accidents result in a reported 17,000 visits to emergency rooms every year.
If you have been the victim of a school bus accident that involved a semi truck, there are things you can do to obtain financial compensation for injuries and damages. In many of these accidents, truck drivers are not insured, which can create additional problems for victims, since the person responsible for the accident cannot pay for the damages. When this unfortunate scenario happens to you, you need to contact a Florida Truck Accident Injury Lawyer at Whittel & Melton. We can help you understand all of your legal options and assist you with pursuing a legal claim against the truck driver and/or trucking company in order to recover damages.
For a free consultation, contact us today online or call us toll-free at 866-608-5529.