Two airboats collided at Wild Florida, a nature park that provides gator encounters, a safari, and Everglade airboat rides, on Monday around 12:15 p.m., injuring 13 people.
The nature park is in Kenansville, close to Orlando, on Lake Cypress.
The cause of the collision is unknown, and the US Coast Guard Marine Safety Unit is leading the investigation. In response to the event, Wild Florida has halted all airboat operations until further notice.
First on the scene were the Osceola County Sheriff's Office and the Florida Fish and Wildlife Commission. Soon after, the U.S. Coast Guard investigators showed up on the site.
According to the Coast Guard, roughly 30 people were engaged in the event, including 28 passengers and two captains.
The number of passengers on each boat is unknown.
Although the Coast Guard said that none of the 13 victims had injuries that were life-threatening, the full extent of their wounds is unknown.
According to reports, two people were flown to HCA Florida Osceola Hospital and six others were transported by ambulance. Three individuals were taken to St. Cloud Hospital by ambulance, and 17 people refused treatment.
According to reports, the Wild Florida team apologized to all tourists involved and wished those who were hurt a quick recovery on Facebook.
Every year, the US Coast Guard records a few dozen injuries involving airboat accidents, with the majority of these occurring in Florida and Louisiana. Deaths are rare, though not unheard of, owing to the shallower waters in which the boats operate.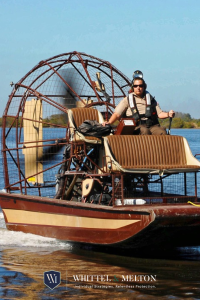 The Florida Fish & Wildlife Conservation Commission (FWC) has recently investigated several cases in Florida, including these recent accidents:
The Florida Department of Environmental Protection provides an Airboat Precautionary Manual that includes suggested safety rules for airboat operators and passengers, including the following safety tips:
Avoid getting too close to the propeller.
Operators should always be alert of anyone or everything that could come into touch with the propeller (including clothing, tools, animals, engine parts, limbs, etc.)
Operators should make sure that all necessary safety equipment is on board, including proper floatation devices, first-aid kits, fire extinguishers, ear and eye protection, drinking water, and a cell phone in a water-resistant case.
Weather conditions in Florida can change quickly, so operators should be prepared. Passengers on airboats are particularly vulnerable to lightning strikes, wind, and fog-related catastrophes. Operators should take adequate preventive precautions to avoid these storms.
In order to prevent heat exhaustion, everyone on board needs to have access to enough water to drink.
If you have any questions about being harmed in an airboat accident at a nature park in Florida, or if you have suffered any injuries while on a ride at any theme park or amusement park in Florida, then our Florida Amusement Park Injury Lawyers at Whittel & Melton are here to help you understand your rights. Call us today at 866-608-5529 or contact us online for a free case evaluation.