Around 11 p.m. on Thursday, a teen boy (14) fell to his death while on the Free Fall ride at ICON Park in Orlando, according to reports from police at the Orange County Sheriff's Office.
The teen was taken to Arnold Palmer Hospital, where he passed away from his injuries suffered on the ride.
Reports indicate that on Thursday night, some ride passengers had discussed issues with the seat restraints on the Free Fall ride. Later that evening, the ride was creeping up the tower when the teen fell from the ride.
What is the Free Fall ride at ICON Park? The ride boasts that it is the world's tallest free-standing drop tower that stands 430-feet tall and reaches speeds of about 75 miles per hour. Free Fall can hold up to 30 passengers and rotates riders around the tower and tilts towards the ground before it free falls.
According to reports, the Slingshot Group operates the ride and is cooperating with investigators as they look into what went wrong Thursday night. Free Fall and an adjacent ride called Sling Shot will now be closed indefinitely.
This is not the first incident at ICON Park. In September 2020, an employee of the theme park died after falling about 50-60 feet from the StarFlyer attraction. The StarFlyer attraction is a 450-foot-tall swing ride attraction that spins double-seated passengers at 45 miles per hour.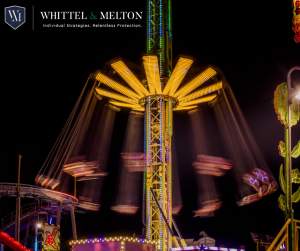 If you incur injuries or lose a loved one from an amusement or theme park ride, you need to know your rights. Our Orlando Roller Coaster Accident Lawyers at Whittel & Melton can help you file a personal injury or wrongful death claim. Amusement and theme parks, such as ICON Park, have a duty to its guests and visitors to keep its attractions and premises safe for everyone. However, accidents can and do happen, but who is to blame?
Amusement parks have a team of lawyers fighting on their side to defend them against any liability when someone is injured or killed at their park. This is to help them escape any responsibility from claims of negligence or product liability, and their most common line of defense is called assumption of risk. This is the concept defined as engaging in risky activity (riding a rollercoaster or other type of ride) even though a person knows the activity is inherently dangerous. However, this is not a blanket defense and sometimes does not fit. If a ride passenger gets on the Free Fall ride, they are likely not anticipating that their seat belt restraints will fail, resulting in personal injury or wrongful death. When something like this is the case, assumption of risk will likely not be applicable. After all, who would think that a safety restraint system would fail on a vastly popular and widely-used attraction? Continue reading