According to a Fun Spot statement on Friday, a roller coaster at the Fun Spot site in Kissimmee has been suspended awaiting an investigation after a child was discovered under the ride with injuries.
According to the statement, an "unfortunate incident" occurred on the Galaxy Spin Roller Coaster, resulting in an injury to a child.
The child, who's age is unknown, was discovered under the tracks of the ride with serious injuries, according to Osceola County Fire Rescue.
The Florida Department of Agriculture and Consumer Services, which oversees inspecting rides at Florida's smaller theme parks and attractions, verified that the incident occurred and that an investigation was underway, according to reports.
According to news reports, the park is cooperating with authorities during the inquiry.
Fun Spot released a statement saying that guest safety is their main priority and they are working together with the Florida Department of Agriculture and the manufacturer. As of now, the park said that the FDACS inspected the ride and found it to be in good working order with no mechanical issues. They claim that they also discovered that the ride was operated in accordance with all manufacturer and industry safety procedures and requirements.
The park also disclosed that the ride would be closed throughout the investigation.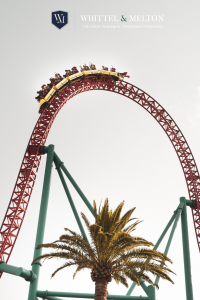 It appears that there have been more roller coaster-related accidents in recent months than ever before.
According to the International Association of Amusement Parks and Attractions (IAAPA), there are 0.9 injuries per million rides, while over 385 million visitors ride more than 1.7 billion rides at around 400 North American fixed-site facilities in a normal year. Furthermore, the CPSC reports that between 2017 and 2019, there were 34,700 injuries in amusement parks, both fixed and mobile, including water parks.
There have also been a few fatalities over the years, but these are not common occurrences.
If you were hurt at an amusement park, whether on a rollercoaster, a Ferris Wheel, a water park ride, or any other type of fair or carnival ride, you should think about your legal alternatives. These types of lawsuits can be challenging, especially because of multiple parties involved and questions about whether the injured party followed the ride rules. It is best to not delay and contact our Orlando Roller Coaster Accident Attorneys at Whittel & Melton at 866-608-5529 or contact us online for a free consultation to learn more about how we may be able to help with your potential personal injury lawsuit.