Two people were seriously injured Monday morning after a small plane crash-landed at Vinoy Park in downtown St. Petersburg.
A Piper PA-28 single-engine plane on its way to Albert Whitted Airport crashed at the park around 10:30 a.m. The plane had taken off from Tallahassee and was carrying three men and a 17-year-old girl from Ireland, according to authorities.
The pilot, a 57-year-old man, and one of the passengers, a 52-year-old man, were taken to Bayfront Health St. Petersburg as trauma alerts. Both men were listed in serious but stable condition.
The two other occupants, a 48-year-old man, and the girl, suffered minor injuries.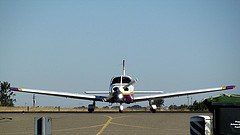 Police believe that the engine failed as the pilot began his approach, and he was forced to attempt a landing in the park, which is about a mile away from the runway.
A yoga class and mom's fitness class was taking place in the area when the plane crashed. A man listening to an audiobook saw the plane clip a tree and called 911.
According to the witness, the plane hit the tree, causing the left landing wheel to veer left. Once the wheel hit the ground the plane rolled on its side and slid before coming to a stop. One of the passengers opened the door and exited after the extreme landing.
This is the second small plane crash near Albert Whitted Airport in just over two weeks. On Aug. 31, a 70-year-old man was killed when the small plane he was piloting crashed into the water of the airport on the southeastern edge of downtown.
Airplane and aviation accidents are by their very nature quite devastating. In fact, most of these accidents result in painful injuries and even death. Although rare, airplane crashes do occur from time to time with large commercial airlines as well as small private and charter airplanes.
Aviation lawsuits involve complex legal issues – from determining the cause of these accidents to proving negligence and establishing what laws apply and which courts have jurisdiction.
If you or a loved one has been injured or killed in an airplane, helicopter or any other type of aviation accident, it is important to seek legal help as soon as possible. A Florida Injury Lawyer at Whittel & Melton can answer any questions you may have and provide you the expert legal advice you need when it comes to these types of cases. For a completely free and confidential consultation, please call us today statewide and toll-free at 866-608-5529 or contact us online.