A recent tractor-trailer collision in Jacksonville is still under investigation by the Florida Highway Patrol that left two girls, 8 and 10, and a 48-year-old woman injured and killed a 67-year-old woman. 
The 48-year-old woman was driving a Ford Explorer and traveled into the median that caused a chain reaction that sent her vehicle slamming into a semi-tractor-trailer truck.
According to the crash report from FHP, the SUV smashed into a guardrail in the median that pushed the SUV into the right shoulder where it crashed into a semi-tractor-trailer truck that was entering the ramp to the Florida Department of Transportation Weigh Station.
The 48-year-old driver and the 67-year-old passenger were ejected from the SUV. The 67-year-old died at the scene.
According to FHP, the two girls were seriously injured, but not ejected from the SUV. 
The driver of the semi-truck was not harmed. 
The crash report did indicate that all parties involved in the wreck were wearing their seatbelts except for the 47-year-old driver of the SUV.
While you may be a perfectly safe driver, there are others that share the roadways with you that are not. Cra accidents of any kind can result in very serious injuries, and when you are involved in an accident with a large truck, the aftermath can be deadly. If you do survive a crash with a semi-truck, then you may suffer from catastrophic injuries leaving you with intense physical pain, the inability to work or get back to your usual daily activities. 
If you have been injured in a serious truck accident or suffered the loss of a loved one in an accident with a semi-truck, then our Jacksonville Truck Accident Lawyers at Whittel & Melton are here to help you hold the at-fault party accountable for their reckless actions so that you can receive compensation for all of your losses. 
Compensation for Your Truck Accident Injuries
When you trust our Jacksonville Truck Accident Attorneys at Whittel & Melton to handle your case, you can rest easy knowing that we are doing everything possible to make sure that you are adequately compensated for your injuries. Depending on the facts of your accident claim, you may be eligible to various types of financial compensation, including: 
Medical Costs: The responsible party or trucking company could be required to pay for all past, present, and future medical costs that arise due to the accident. 
Lost wages and Loss of Future Earnings: When someone is injured in an accident with a tractor-trailer, semi-truck, box truck, etc., then they may be left recovering from severe injuries that leave them unable to work. In certain cases, the victim may not be able to return to their previous line of work ever. The law provides for people in these situations and victims can be compensated for all lost wages, temporary or permanent.
Non-economic Damages: These damages are intended to compensate victims for pain and suffering, emotional agony, mental anguish, loss of enjoyment of life, and loss of consortium (the loss of a loved one/spouse). 
Punitive Damages: These damages are set in place to sway the responsible driver from causing another accident of this kind in the future. Not every case warrants punitive damages, but we can determine if you are entitled to damages of this kind.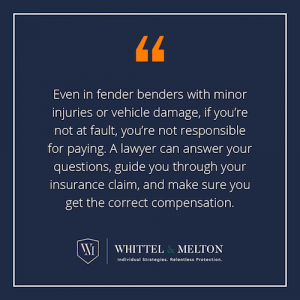 In order to receive financial compensation after a truck accident, you have to file a claim within a short time frame. What does this mean to you? This means you need to speak with our Jacksonville Truck Accident Lawyers at Whittel & Melton right away – there is no time to waste. 
Our team of trucking lawyers will treat you with compassion to make sure your case gets the personalized attention it deserves. Not sure if you have a case? We offer free consultations and are happy to meet with you and listen to the details of your accident and provide you with our honest feedback. We service all of Florida, and have several office locations to meet you at. We also make house calls and hospital visits. You can reach us at any time of day or night by calling 866-608-5529. You can also fill out our online contact form at your convenience.
If you or someone you love has been seriously harmed or killed in a truck accident anywhere in the Jacksonville area, then you could have a valid claim for damages against the at-fault driver. We welcome you to contact us today online or call us now at 866-608-5529 to learn more about how we may be able to help you. Our consultations are completely free and without any obligation.