A fiery crash between Florida rapper Tafia and a tractor-trailer last month shut down all lanes of SR-112/Airport Expressway in the early morning hours.
The collision occurred near NW 12th Avenue a short time after 3:30 a.m.
The tractor-trailer driver claims the other vehicle involved in the crash was speeding on the shoulder at the time of the crash, according to reports. 
Officials said that the truck smashed into a concrete barrier, which caused the 100 gallons of fuel it was carrying to burst into flames. 
The truck driver was luckily able to kick open the door of his cab and exit the vehicle. 
Four people were involved in the accident, but none were reported to have suffered serious injuries, according to Miami Fire Rescue.
One of the people in the SUV that was involved in the crash with the truck was North Miami rapper Tafia, according to reports.  
According to Miami Fire Rescue, the firefighters at the scene were able to extinguish the flames in about 10-15 minutes. The Miami-Dade County Environmental Resources Management Team was also on the scene to assist with fuel that was leaking into a storm drain.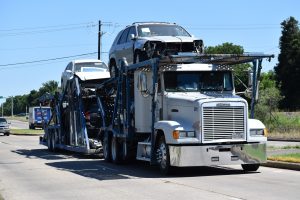 Motor vehicles are involved in thousands of crashes on Florida roadways every year that result in tragic consequences from costly repairs to fix damaged vehicles to serious personal injuries, road shutdowns, and even death. The truth is that the trucking industry is involved in a good portion of car accidents across the country each year. 
If you happen to be involved in an accident with a tractor trailer or large semi-truck, then you are much more likely to suffer catastrophic consequences as a result. Big rigs and commercial trucks weigh anywhere from 20 to 30 times more than your typical passenger vehicles on the roads, so it is easy to see why accidents with these vehicles can bring about tragic results. 
All vehicles—cars, trucks, SUVs, motorcycles—can cause traffic accidents for a variety of different reasons. Speeding, distracted driving, driving under the influence of alcohol, drugs or prescription or over the counter meds, and fatigue are all leading causes of truck accidents. 
Our Florida Truck Accident Lawyers at Whittel & Melton have an experienced team of truck accident attorneys on staff with decades of experience handling personal injury law cases. We are happy to offer you or your family members a free case evaluation following a truck accident so that you can fully understand your legal options.  
Our Recommended Steps To Take After A Truck Accident in Florida
We know how frightening it can be when you are involved in a collision with large vehicles. Timing can be a very important factor when it comes to gathering evidence that can help with the process of filing a personal injury claim, so we always recommend contacting local authorities so that they can get to the crash site and preserve critical evidence. 
If you have been injured or suffered damages to your vehicle in a truck accident, then we urge you to follow these important steps: 
Call for help – Dial 9-1-1
Safety is the number one priority following a collision. If you or anyone else at the scene is injured, or could be, then call 9-1-1 right away so that everyone can get immediate medical attention and so that the police can be notified. 
Medical records and an official police report are very important to support your claim after a truck accident. Once law enforcement has arrived at the scene, they can take notes of the accident, the time and location the accident occurred, and take statements from any witnesses or other drivers involved. 
We want to reiterate how important it is to get medical care right away whenever you are involved in an accident. Even if you do not think your injuries are serious, you still need to be checked out by a doctor to rule out any complications that could present themselves later on. 
Get as much information as you can 
If you are able to, get as much information as you can from drivers, passengers, and any witnesses of the accident. You can get their names, phone numbers, email addresses, license plate numbers, driver's license information, and insurance information. Any information you can obtain might prove useful when it comes to recovering damages following an accident. 
Take pictures/videos 
Take pictures of your injuries, the crash site, and any property damage so that this can support your claim. While police should collect their own photos for evidence to keep with the accident report, it can be a good idea to take your own just in case important evidence is missed, lost, or even destroyed. 
Contact our Truck Accident Attorneys 
Once you are medically cleared, you want to assert your legal rights, but doing this on your own is not a good idea. The best thing you can do is to reach out to our Florida Truck Accident Lawyers at Whittel & Melton as we can guide you through the injury claims process and help protect your legal interests. 
You can call us anytime at 866-608-5529 or contact us online to request a free consultation.