Even though 2020 brought us the novel coronavirus and placed the world on lockdown, the National Safety Council released a new estimate that 42,000 people were killed in car crashes and another 4.8 million were injured. 
These numbers show an 8 percent increase from 2019, which happens to be the largest yearly increase in nearly a century. It should also be noted that the average number of miles driven dropped by 13 percent.  
Experts believe that because less people were on the roads commuting to and from work resulted in more speeding, which ultimately resulted in more traffic fatalities. The irony is that congested traffic from the daily commuters was actually keeping people safer. 
Many state leaders are calling this a U.S. public health crisis and looking to make a change, Laura Friedman, a California Assembly member, has introduced a bill for 2021 to reduce speed limits as a way to combat the growing number of traffic deaths.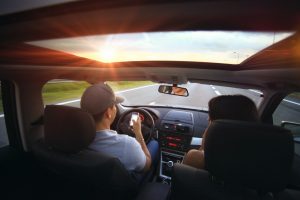 It seems this has been a growing problem over the past 10 years, but the COVID-19 pandemic managed to place a spotlight on it. Lawmakers from states coast to coast are starting to introduce various bills aimed at lowering speed limits, promoting pedestrian/bike safety, and setting up speed camera programs. 
The proposals show various perspectives on how to better manage traffic. Traffic engineers along with transportation safety advocates are also looking at designing roads that will help motorists get to where they are going more safely as opposed to faster. 
It is unknown to what extent these new bills will take effect. Certain states are looking at letting cities and counties have more control over their speed limits and other states like Florida, Massachusetts, and Rhode Island want to let their communities use speed cameras. 
According to the National Safety Council, the large surge in fatalities started showing quickly after lockdown orders went into effect for the country. 
California said that citations issued for speeding over 100 miles per hour almost doubled during 2020 reaching a whopping 31,600.  
While states want to introduce new protocols to keep everyone safe, lawmakers do realize it is a delicate balance between protecting communities and over policing them. Wealthier communities usually have more walkable sidewalks and wider streets, while lower-income areas are located by freeways. Placing cameras on mostly streets in low-income areas could mean that the speed programs are not entirely fair, even though speed cameras do not discriminate by skin color. 
Traditional policing on speeding has not been successful in the past, so lawmakers are still working out the kinks on what should be done to make roads safer across America. 
During the COVID-19 pandemic, facilities involving pedestrians like runners, bikers, walkers, and others trying to remain active have also increased. Even though many Americans will be heading back to work in the near future, many will remain working from home so it is now more important than ever to pay attention to your surroundings regardless of the time of day. You want to limit the number of distractions in your car, put your phone down, pay attention to speed limits, and keep your eyes on the road at all times. Everyone must do their part to keep our communities safe. 
What Are Common Causes of Fatal Car Accidents in Florida? 
According to the Department of Florida Highway Safety and Motor Vehicles, Florida's car accidents are usually caused by: 
Distracted driving 

Speeding 

Disobeying traffic laws

Reckless driving 

Drunk driving 

Poor road conditions

Bad weather
Contact Our Florida Car Accident Lawyers at Whittel & Melton
Regardless of the circumstances leading up to your motor vehicle collision, if you want to protect your legal rights and pursue justified compensation for your losses then you need to seek legal help from our Florida Injury Lawyers at Whittel & Melton. As skilled personal injury trial attorneys, we have a deep understanding on how to prove liability in auto accident cases and make sure our clients' rights are protected to the fullest extent of the law. 
Are you dealing with the loss of a family member in a fatal car accident in Florida? Are you unsure of what steps you need to take next? If you are interested in learning more about how Florida Auto Accident Lawyers at Whittel & Melton may be able to help with your car crash, we urge you to contact us today online or call us at 866-608-5529. We are available 24/7 for a completely free consultation so that you can get all the answers you need.