Mitsubishi Motors Corp is recalling cars made with Takata Corp air bags in Florida, Hawaii, Puerto Rico and the U.S. Virgin Islands.
Mitsubishi has joined nine other automakers in conducting a recall in those states.
Mitsubishi has said it will conduct a limited recall of model year 2004 and 2005 Lancer sedans with Takata passenger-side air bags that have inflators that may cause them to open with too much force, according to the U.S. National Highway Traffic Safety Administration.
According to the NHTSA website,"In the event of a crash necessitating deployment of the passenger-side frontal air bag, the inflator could rupture with metal fragments striking and potentially seriously injuring the vehicle occupants."
Nearly 12 million vehicles with Takata air bags or inflators have been recalled within the past five years.
The Japanese auto parts supplier announced on Friday that they have experienced a "special loss" of about 45 billion yen, which equates to $440 million, because of the problem.
Like most of the automakers participating in the recall, Mitsubishi has limited the recall to a portion of the United States and U.S. territories.
Mitsubishi released the following statement: "Due to NHTSA's belief that humidity is a contributing factor to the inflator condition at issue, the (recall) will be limited to affected vehicles that are registered in, or were originally sold in Florida, Hawaii, Puerto Rico, and the U.S. Virgin Islands."
Some of the other automakers have expanded the recall to include other warm-weather states or the entire country.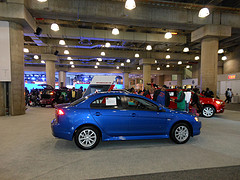 Mitsubishi says they do not know of any crashes, injuries or deaths related to Lancer sedans with Takata air bags. The company claims it has not found any safety defect on its own and is recalling the cars because it is working "in good faith" with NHTSA.
BMW announced earlier this week that it would recall 1.6 million 3 Series cars with Takata front passenger-side air bags.
According to a Mitsubishi spokesman, the company is "still investigating" how many Lancer sedans will be involved in the recall.
Auto manufacturers and retailers have an obligation to make sure their products are safe for customers. Items that are meant to keep consumers safe, such as seat belts, child car seats and airbags must be in proper working order at all times, otherwise they can actually create more safety risks to drivers and passengers. If you or someone you love has been injured in an auto accident involving a defective air bag, please contact a Florida Auto Accident Attorney at Whittel & Melton as soon as possible at 866-608-5529 for a free consultation. We can investigate the cause of your accident and evaluate the situation, so that we can advise you on how to best proceed.