BMW has recalled several of its most popular models due to defective Takata airbags, a problem that is hitting much of the global auto industry.
The German automaker will recall 1.6 million 3-Series cars from model years 2000 to 2006 across the world, including 574,000 in the U.S.
The company said the recall is just a precaution because other automakers using similar systems have had issues.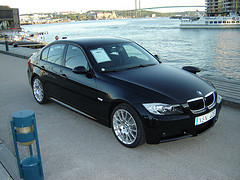 The problem with the Takata airbags is that airbag inflators in these systems can rupture. When this happens, not only can the airbags not work properly, but they could blast shrapnel into passengers.
Honda, who has had similar issues with these airbags, reported two deaths in 2009 linked to the problem. They have recalled vehicles with Takata bags six times since then.
The airbag issue is responsible for millions of recalled vehicles over the past few years, including those made by Chrysler, Ford, Honda, Mazda, Nissan and Toyota. The recalls have mostly been of vehicles in states with hot and humid weather, which includes Florida.
BMW said no problems have been reported in their vehicles. However, dealers will replace the passenger-side front air bags.
The new recall excludes 42,000 BMWs recalled in May 2013 for the exact same problem. The company says it is recalling all vehicles equipped with potentially defective airbag systems regardless of where they were sold.
The U.S. National Highway Traffic Safety Administration began investigating air bags made by Takata in June. The agency said they received six reports of air bags rupturing in Florida and Puerto Rico, resulting in three people suffering injuries.
The NHTSA estimated 1.1 million vehicles in the U.S. could be affected, but they believe that number is likely to climb.
The government wanted automakers to act swiftly to warn those in warm states while it continues to investigate the issue.
If an airbag defect in your car has resulted in an unfortunate accident, you may be struggling to recover from any injuries and unsure of what you can do to remedy your situation. While the law can be complex, you do have legal recourse against the vehicle's manufacturer. Manufacturers have a duty to pay attention to the quality of the products they put out and issue recalls in a timely manner should a problem arise. When automakers and manufacturers fail to do this, innocent consumers can be seriously injured or killed.
Thousands of people suffer serious injuries from defective products every year. Most of these injuries could have been avoided if the makers and manufacturers of these products took extra care to ensure the safety of consumers. Every year, thousands of consumers sustain serious injuries from defective products. Many of these injuries could be avoided if the manufacturers or distributors of these products took additional steps to ensure consumer safety.
If you or someone you care for has been injured by a defective auto part, a Florida Injury Lawyer at Whittel & Melton can help you seek the financial compensation you deserve to help offset medical bills and lost wages. We offer complimentary consultations, so contact us today online or call 866-608-5529.