South Dakota's Attorney General Jason Ravnsborg hit and killed a pedestrian Saturday night while driving. The death was discovered after he told the Hyde County Sheriff's Office that he collided with a deer, according to the South Dakota Department of Public Safety.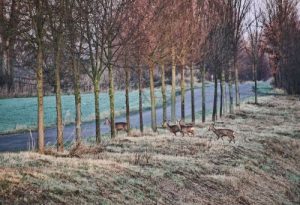 Ravnsborg told police that he survived the crash involving a deer unscathed. The highway accident occurred at about 10:30 p.m. CT on Saturday, according to the department of public safety. 
The body of the pedestrian he hit, a 55-year-old man, was found on Sunday morning.
It is unknown whether Ravnsborg stopped to check the scene after the collision. 
South Dakota Gov. Kristi Noem held a press conference Sunday morning stating that there will be an investigation conducted by the South Dakota Highway Patrol. The fatal crash will be investigated in the same manner as all other fatal accidents. 
Ravnsborg is fully cooperating with the ongoing investigation, according to reports, 
Ravnsborg is a Republican who was elected in 2018 as South Dakota's attorney general. 
It will certainly be interesting to see how this case pans out. The National Highway Traffic Safety Administration (NHTSA) reports that motor vehicle accidents involving deer are responsible for about 1.5 million crashes across the United States. These accidents cause about 150 deaths per year and $1.1 billion in property damage. Most deer-vehicle accidents happen between October and December which is the mating season for deer. The majority of these accidents do happen at night as deer are nocturnal animals who are on the hunt for food during night-time hours. 
Losing a loved one is not an easy thing to accept. This is even harder to do when their death was caused by the negligent actions of another person. Our Florida Pedestrian Wrongful Death Lawyers at Whittel & Melton know how difficult it can be to deal with the death of a family member or loved one. While there is no dollar amount that any state can place on the value of your loved one's life, we can help you recover financial compensation to help with bills, supplement lost income, and help you start over with your life following a devastating loss. 
Wrongful death claims are usually filed after the untimely death of a loved one by their family members, such as children, spouses, parents, and even siblings. Wrongful death cases must be filed in a certain amount of time and aim to recover a financial award for medical bills and/or funeral costs, loss of benefits, pain and suffering by survivors, and loss of companionship. 
A wrongful death claim can be made when a person's death is the direct result of another person's reckless or negligent actions. There are various types of wrongful death cases, including pedestrian-car accidents, and these claims all seek financial compensation in civil court rather than criminal court. While criminal court is designed to punish a person for breaking the law, civil court is designed to help injured victims or surviving family members recover financial compensation for their loss. 
Florida has its own set of rules and regulations on when and how certain family members can file a wrongful death lawsuit. set restrictions on when and how a certain family member can file a wrongful death claim. Florida statutes (section 678.18) state that surviving family members can proceed with a wrongful death claim when their loss resulted from one of the following: 
Breach of contract (default) 

Negligence 

Wrongful act
In Florida, as well as other states, there is also a statute of limitations set in place for wrongful death suits. This is a time constraint placed that outlines how long surviving family members have to file a claim in civil court. In Florida, the statute of limitations for wrongful death claims is two years from the date of the death. However, there are special conditions that may allow for an extension for the claim. 
If you have lost a loved one in a pedestrian-car accident in the state of Florida and are wondering how to proceed with a wrongful death claim, our Florida Pedestrian Wrongful Death Lawyers Whittel & Melton can walk you through the litigation process in a completely free consultation. We know the challenges you are likely facing and want to help you through this difficult time. We take these cases on a contingency basis, meaning we only get paid when and if you do. We welcome you to contact us today to learn more about how we can assist with your pedestrian wrongful death matter.