As parents, we all want our kids to be kept safe from any dangers or harm. Car accidents are the leading cause of death among children over the age of 4, and nearly 5,000 kids die in motor vehicle crashes each year. The numbers are far too alarming, which is why the American Academy of Pediatrics (AAP)  has outlined guidelines for children to follow when riding in the car. 
Car Seat Guidelines
Children should ride in the backseat of a car until the age of 13. Infants and toddlers should be placed in rear-facing car seats until they reach the  age of 2. If they have outgrown their rear-facing seat before the age of 2, then the AAP says they can be moved into a forward-facing car seat. Once a child is riding in a forward-facing car seat with a harness, they should remain this way for as long a possible – up to the highest weight and height allowed by the manufacturer of the car seat. After they have outgrown their forward-facing seat, they can then be placed in a booster seat, which is designed to help seat belts fit their smaller bodies correctly. Seat belts are designed for adults, so until a child is 4 feet, 9 inches, they should remain in the booster seat (roughly 8-12 years old). 
This information serves as an excellent reminder to parents on how to keep their kids safe when travelling to and from their destinations. The National Highway Traffic Safety Administration (NHTSA) reports that every 32 seconds a child under the age of 13 was involved in a motor vehicle crash in 2018. The important takeaway here is that proper car seats, booster seats, and seat belts can protect our children in the event of an unfortunate car accident.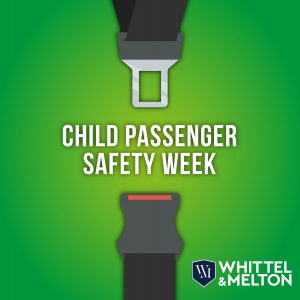 While most parents believe their car seats and booster seats are installed correctly, the shocking reality is that 46% (that is almost half) are not. Child Passenger Safety Week is currently going on – running from September 20-26.  During this week there will be certified Child Passenger Safety Technicians available to the public in every state offering free help and education on properly using infant and toddler car seats, child booster seats, and seat belts. These techs are around to help educate everyone on choosing the right car seat/booster seat for a child, how to install them correctly, and how to properly use the seat every time your child goes for a ride. Another important safety tip they will provide is how to register the car or booster seat with the manufacturer so that you can be notified in the event of a safety recall.  
If you need helpful information on choosing the right car seat for your child's needs, you can find it here. 
Child Passenger Safety Week 2020 ends with National Seat Check Saturday on September 26. Due to COVID-19, more techs will be available to assist with virtual checks this year for Child Passenger Safety Week. You can view where to find a virtual seat check here. 
The NHTSA is also stressing the importance of children dying from heat stroke during this year's Child Passenger Safety Week. They are urging all parents and caregivers to remember their slogan – Park. Look. Lock. In recent years there have been more child deaths than ever from children being left or becoming trapped inside a hot vehicle. The majority of hot car deaths, 54%, happen when a parent or caregiver forgets they have a child in the backseat of their car. So far in 2020, there have been 20 child deaths reported involving vehicular heatstroke. 2019 was the second deadliest year for pediatric vehicular heatstroke, with 52 children killed because they were left behind in the backseat of a car or gained access to an unlocked car while no one was watching. 
Parents and caregivers are urged to develop good habits with children in their cars and always look around their car before leaving it as well as locking the doors once everyone is safely out. 
Bystanders are also urged to help prevent pediatric vehicular heat strokes. If you see a child alone in a car, you should do your part to save their life and call 911. The important thing to do in these situations is to get help immediately as the child's life is in imminent danger. 
If you have any questions about keeping your children safe in the car or if your child has been involved in a car accident, our Florida Car Accident Lawyers at Whittel & Melton are here to help you. You can contact us online for a completely free consultation where we can provide you with the answers you need and make sure you understand your legal rights.