This week is Child Passenger Safety Week, and the National Highway Traffic Safety Administration (NHTSA) has made child deaths from hot cars part of 2020's campaign. This case reminds us all the importance of the NHTSA's slogan "Park. Look. Lock." Always ask yourself "where is the baby?" 
An Orlando teacher has been charged with the death of her friend's 20-month-old son after she left the child inside a hot vehicle for 7.5 hours. 
The 34-year-old woman was charged with neglect and aggravated manslaughter. 
The woman confessed to leaving the child locked inside the car while it was not running for 7.5 hours, according to the Orange County Sheriff's Office. 
On Monday she was booked into the Orange County Jail and was later released after posting bail. 
The woman is a third-grade teacher in Apopka and is currently on administrative leave.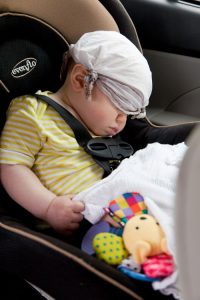 According to police, the child's mother paid the woman $80 a month to take her son to daycare on the day's she could not because of her work schedule. This arrangement started about 10 months ago. 
Reports show that the woman picked up the child from his mother's house on September 11 and was placed in the back seat of the woman's car around 7:30 a.m.
The woman's son was also in the backseat. She dropped him off with his babysitter. 
Instead of dropping the child off at his daycare, she drove to the elementary school where she works. 
Deputies believe she may have been distracted by the 31-minute call she made while driving. 
She arrived at the school shortly before 8 a.m. and clocked out at 3:21 p.m.
She drove to a student's home to drop off a textbook and then drove to the child's daycare. At 3:40 p.m. she found the child in the back seat of her car buckled into his car seat. 
The heat index that day was about 105 degrees, according to investigators.
The sad truth is that cases like these are not at all uncommon. There have been more deaths in the past few years from children being left inside hot cars or from children climbing into unlocked cars and getting trapped inside. The majority of pediatric vehicular heat strokes – 54% in fact – occur when parents or caregivers forget about a child in their car and leave them in the backseat and go about their day. In 46% of these cases where a child is forgotten in the back seat, the parent or caregiver meant to drop the child off at preschool or daycare. The end of the workweek – Thursdays and Fridays – had the highest number of deaths. In this particular case, the child's death occurred on Sept. 11 – a Friday. Around 75% of children left inside a hot car are under the age of 2. The child in this case was about 4 months shy of 2.  
According to the NHTSA, there have been 22 child hot car deaths so far in 2020. In 2019, 52 children died in hot car deaths. In 2018, 53 child deaths from hot cars were reported. 
Child Passenger Safety Week runs from September 20-26. This is a week to educate yourself on proper car seat guidelines for children and remember to look before you exit your vehicle and always lock your car in case a child tries to climb inside unattended. It is absolutely imperative for parents and caregivers to get into good habits when they are travelling any distance with children. Child hot car deaths are entirely preventable, and one small mistake can result in a huge tragedy. 
Anyone that sees a child left unattended in a car should take action and do what they can to get the child out of the hot car. Do your part to save a life and call 911 for immediate help.
Under Florida law, Section 316.6135, parents or caregivers of children under the age of 6 are not allowed to leave a child unattended in a car for more than 15 minutes. Hot cars and children can be a deadly combination. Our Florida Injury and Wrongful Death Lawyers at Whittel & Melton do not want to see your child, or anyone else's, become a statistic. Let's all do our part and prevent child hot car deaths. 
If you or a loved one has been the victim of a negligent or intentional act, including leaving a child locked inside a hot car, we are here to help you understand what your legal rights are for seeking justice. We can answer all of your questions and assist with filing a wrongful death claim on behalf of your child.