The U.S. Department of Justice has launched an investigation into the Southern Baptist Convention in the wake of its clergy sexual abuse crisis.
The DOJ has subpoenaed the SBC's Nashville-based Executive Committee, but no individuals have been subpoenaed at this time, according to reports.
This investigation comes months after a 288-page scorching report from the investigative firm Guidepost Solutions that showed how SBC leaders mishandled claims of sexual abuse claims for decades and went as far as to threaten and mistreat abuse victims.
Leaders from SBC seminaries, missionary groups, the Executive Committee, as well as the SBC's newly elected president, Texas pastor Bart Berber, promised to cooperate fully with the DOJ's investigation.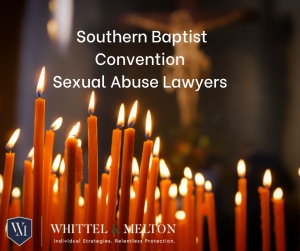 So, what does this mean for victims and why is the DOJ investigating now? In the past, the DOJ would not usually get involved in sex abuse claims as these are normally handled by state or local law enforcement. The DOJ will get involved in cases where a federal crime has occurred, such as transporting trafficking or sex abuse victims across state lines.
It is rare to hear about the FBI investigating the activities of religious groups, but as the DOJ is currently investigating the Archdiocese of New Orleans to discover whether abusive Catholic priests traveled with children across state lines, news of their investigation into the sex abuse claims among the SBC, which operates 47,000 independent member churches nationwide – not just in the South, does not come as a big surprise following the blistering report released by Guidepost documenting more than 20 years of sex abuse claims involving an estimated 400 SBC leaders.
The DOJ has also been prompted to become more proactive in sex abuse claims involving larger organizations following the USA Gymnastics scandal involving Dr. Larry Nassar, a former team doctor, who was arrested and sentenced to up to 175 years in prison for sexually abusing more than 150 females. A 2021 Justice Department report uncovered that the FBI mishandled allegations of sex abuse of athletes by Nassar.
Investigating church leaders for covering up sex abuse can be challenging, but it can be done. It must be demonstrated that there was some type of intent to protect or hide the abuser. It will certainly be interesting to see how the DOJ investigation into the SBC plays out – our hope is that all survivors of abuse at the hands of SBC leaders will achieve some sense of justice. Our SBC Sex Abuse Lawyers at Whittel & Melton can help clergy sex abuse survivors discover all of their legal options.
After being the victim of sex abuse from a trusted church member or leader, you may be feeling a wide range of emotions, such as anger, sadness, fear, and even withdrawal from your church, family, and friends.
The impact of being sexually abused can be long-lasting, especially when the abuser sees no repercussions for their illegal actions and continues to go about their life, possibly harming more people. You deserve to seek damages for the harm that you endured, and you may be wondering how you can do that. A sexual abuse lawsuit can allow you to seek justice via financial compensation for all your suffering – physical, emotional, and mental. You need to have a strong legal advocate on your side who can guide you through the process and handle your sex abuse case with the utmost care. Our SBC Sex Abuse Lawyers at Whittel & Melton know the laws that apply to these cases, the statute of limitations, and more. We can handle all the legal aspects of your case, so that you can focus your efforts on recovering and healing from this trauma.
Whenever you are ready, we can listen to the details of your incident and help you understand all the strengths and weaknesses of your case. We will be open and honest with you about where you stand and what we think the potential outcome could be. We can help you build a strong case so that you can recover full and fair compensation that reflects the justice you are entitled to. Continue reading