The Roman Catholic Diocese of Camden, New Jersey, has reached a settlement of $87.5 million to be shared in a trust between about 300 or victims of child sexual abuse by members of the clergy.
According to reports from CNN, the settlement will be funded over four years, and all the victims with receive their funds from an allocator.
Both the Camden diocese and the survivors' attorneys' have agreed to the terms of the settlement, but the court will need to approve of the terms to make it official, which is slated for early June.
The settlement comes from numerous allegations that the Catholic church covered up instances of sexual abuse by clergy members spanning decades. Due to these allegations across the country, not just in New Jersey, many Catholic dioceses have filed for bankruptcy protection.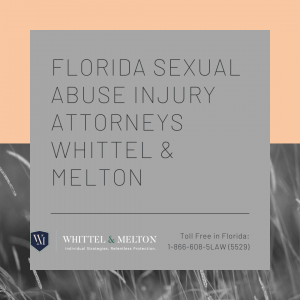 Claims Against the Catholic Church in Florida
If you or your son or daughter was sexually abused by a clergy member of the Catholic church, or any other religious organization, in the state of Florida, then please know that our Florida Sexual Abuse Injury Lawyers at Whittel & Melton can help you figure out what steps to take next. You may have a case against the perpetrator of the abuse as well as the Church. The perpetrator may be held liable in criminal court as well as civil court, but the perpetrator may not have the resources needed to pay out the significant damages you are likely entitled to, and their access to children was likely gained through the Church itself, thus making the Church liable for their role in the abuse. Negligence, among other things, could be a basis for a lawsuit against the church as they should conduct through background checks on all their priests and employees to be certain they can safely work around children. Likewise, if they knew about child sex abuse complaints and failed to take appropriate action, they can be held liable for misrepresentation or fraud.
If you or a family member suffered sexual abuse at the hands of a Catholic priest or any other employee of the Catholic Church, then please know that we support you and want to help you recover financial compensation for your suffering. Our Florida Sexual Abuse by Church Clergy Injury Lawyers at Whittel & Melton can help you get money for economic and non-economic losses, like pain and suffering, loss of enjoyment of life, emotional distress, loss of religious faith, the costs of therapy and all related treatment, and the list goes on. We may also be able to get you punitive damages as well. Let us help you explore all of your options so that you can make an informed decision. Call us now at 866-608-5529 or contact us online for a free consultation.