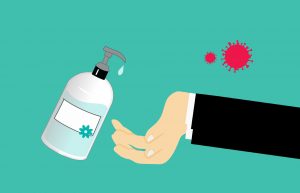 Almost 90 new brands have been added to the FDA's updated list of possibly toxic hand sanitizers. The FDA believes these hand sanitizers contain methanol, a toxic chemical that can be absorbed through the skin. If ingested, methanol can kill you. 
According to the FDA, all but one of the possibly hazardous hand sanitizers were manufactured in Mexico. The singular hand sanitizer brand not manufactured in Mexico is from Leiper's Fork Distillery in Tennessee.
The FDA is warning consumers to steer clear of hand sanitizers on their list, which you can view here. 
The FDA is taking steps to try and prevent these hazardous products from entering the U.S. by placing them on an important alert. But even with this alert, these hand sanitizers brands are still finding their way on the shelves of popular retail stores like Costco, Walmart, and Target. 
As coronavirus lingers in the U.S., hand sanitizer is still a very popular product. With schools slated to reopen soon and numerous other professionals heading back into work on a full or part-time basis, hand sanitizer is a huge must have for many people who may not be able to wash their hands with soap and water as often as they'd like. While the CDC urges people to wash their hands with soap and water as frequently as possible to reduce the spread of germs, using a hand sanitizer with at least 60% alcohol can reduce the amount of germs on your hands which in turn can help you avoid getting sick or spreading any germs to others. 
If you have any of the potentially poisonous hand sanitizers in your possession, the FDA says to stop using them immediately and toss any leftovers into hazardous waste containers. You should not flush or pour any of these toxic products down the drain.
Methanol poisoning can be fatal, which is why the warnings regarding these hand sanitizer brands are so urgent. If you have used any of the brands listed from the FDA, you should check in with your medical provider right away to make sure you have not been exposed to methanol. If you have been exposed to methanol, the following symptoms might be noticed: 
Nausea

Headaches

Blurry vision

Blindness

Vomiting

Death

Seizures

Coma
Ingesting hand sanitizers or using them as an alcohol substitute places you at heightened risk for methanol poisoning. You want to keep all hand sanitizers away from any babies and young children who may get their hands on these products and accidentally drink them. 
We all want to do our part to stop the spread of coronavirus, which is why hand sanitizer is a must-have item in your home, car, office, purse, etc. Our Florida Injury Attorneys at Whittel & Melton want everyone to stay healthy and safe, which is why we are urging everyone to stay up to date on FDA recalls and always read your labels so you know what you are putting on your body. Remember, you want to use alcohol-based hand sanitizers that contain at least 60% ethanol.
Methanol poisoning is quite serious, and as we have pointed out, can be deadly. Methanol is a toxic alcohol that is mostly used as a fuel source or a pesticide. After being exposed to methanol, it could take 1 to 72 hours for symptoms to present themselves, but once medical treatment is administered methanol poisoning can be reversed. 
If someone you love has suffered from methanol poisoning due to a dangerous hand sanitizer, our Florida Injury Lawyers at Whittel & Melton are here to help hold the manufacturer of these dangerous brands responsible for their negligence. We can discuss your injuries or the death of a loved one with you and help you understand what your options are for pursuing financial compensation. 
While COVID-19 has presented many challenges for all of us, our staff at Whittel & Melton, are still here to make sure you have the sound legal advice and guidance you need during these strange times. We are committed to keeping our employees and clients healthy and safe, so we are taking added precautions while still making ourselves available 24/7 to discuss any potential legal claims and answer any questions you may have. If you need a free consultation regarding a personal injury or wrongful death matter, we are here to help you so contact us now.