A Canadian passenger aboard a Royal Caribbean Cruise ship vanished recently, and police in the Cayman Islands suspect the 65-year-old may have fallen off the boat.
Search crews have been scouring the waters around the British Caribbean territory looking for the unidentified man believed to have fallen around dawn Tuesday about 13 miles northwest of Grand Cayman.
Police have interviewed staff and witnesses aboard the Royal Caribbean Cruise ship and are still investigating the disappearance.
Police issued the following statement: "The Port Authority broadcasted an appeal to all marine traffic to be on the lookout for the missing passenger."
The man's wife reported him missing on Tuesday morning, right as the Independence of the Seas ship prepared to dock at George Town Harbor.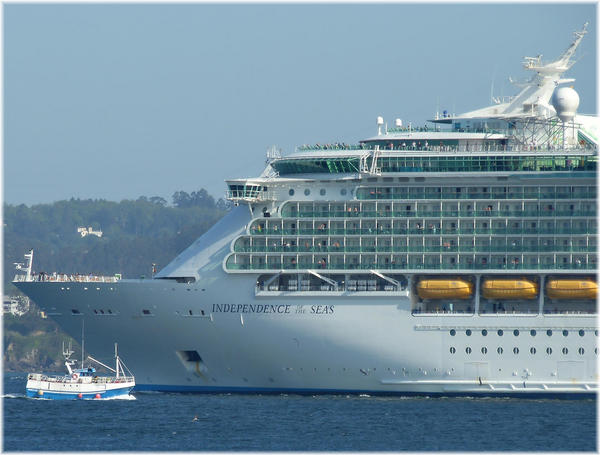 A spokeswoman for Miami-based Royal Caribbean Cruises said the investigation was turned over to local authorities before the cruise ship departed and continued on its path. The man's wife got off the ship in the Grand Cayman.
According to police, the wife claims they went to sleep around 1 a.m. Tuesday and that her husband was gone when she woke up about six hours later.
Authorities have searched the 15-deck, 1,112-foot-long craft and reviewed closed-circuit camera footage before the ship set out. The ship is on a six-night cruise that left from Fort Lauderdale on Sunday and has port calls in Jamaica and Haiti. It is equipped to lodge 4,375 guests and more than 1,300 crewmembers.
This man is the second Canadian passenger that has gone missing from a Royal Caribbean ship recently.
On Saturday, a 26-year-old jumped from the Adventures of the Seas near a Puerto Rican island on the last night of a week-long Caribbean cruise with his family. The U.S.
Coast Guard finished its search for the man on Monday.
Cruise ships can be a wonderful way to travel in ease and hit many destinations in a short period of time. Due to its beautiful year-round climate and open waterways, south Florida is the perfect starting point for many cruise lines. In fact, more than 5,300 ships call at Port Everglades in a year making this port located within the three cities of Fort Lauderdale, Hollywood and Dania Beach one of the world's best and busiest cruise ports. However, with the increasing popularity of travelling via cruise lines, we are starting to see an abundance of cruise ship accidents, ship malfunctions, crimes and a larger number of reported accidents, injuries and wrongful deaths suffered by cruise ship passengers.

A Florida Cruise Ship Injury Attorney at Whittel & Melton can help you with your maritime accident claim and/or passenger injury or death claim. We represent passengers both in the United States and other countries around the world who have traveled to Florida to take their vacation. Whether you're from the United States, Canada or any other foreign country, our Florida Cruise Ship Injury and Maritime Attorneys are ready to help you pursue what is rightfully owed to you under the law.
It is important to understand that many cruise ship contracts contain clauses that limit the amount of time you have to file a claim as well as where a lawsuit can be filed. The fine print on your cruise ship ticket may require you to file claims only in local or federal Florida courts and place a statute of limitations on when you can file a personal injury or wrongful death suit. With that said, you should not delay in seeking legal assistance if you or someone you love has been injured or killed while on a cruise. A Florida Cruise Ship Injury Lawyer at Whittel & Melton can help you understand your legal rights. For a free consultation, please contact us today online or call us locally at 561-367-8777 or statewide and toll-free at 866-608-5529.
Photo credit: jl.cernadas / Foter.com / CC BY