For the first time ever, Florida Gov. Rick Scott has the opportunity to sign into law a bill imposing restrictions on how parasailing companies conduct their business. The new laws would require operators to carry $1 million of insurance per rider and would ban parasailing in sustained winds topping 20 mph or gusts reaching 25 mph.
According to a senate report, between 2001 and October of 2013, there have been 21 parasailing accidents in Florida that have resulted in 23 injuries and six deaths.
Of those that have lost loved ones is an Ocala woman who lost her youngest daughter to a parasailing accident in Pompano Beach in 2007. Her older daughter was left with brain damage.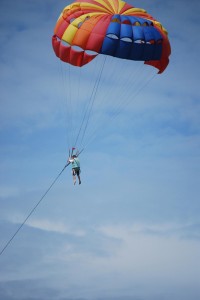 The mother blames the tragedy on a void of regulation in the parasailing industry, something she hopes this new law will change.
The company that took the Ocala woman's teenage daughters out parasailing apparently did not keep their equipment in good shape or watch out for inclement weather conditions.
Once the teens were out, the wind began to pick up and the girls asked to be let down, however the wench did not have enough strength to pull them down to safety. The decaying rope snapped, dragging the teens and the yellow parasail into the roof of a two-story home, and finally coming to rest in a tangled mess in a tree.
The daughter that suffered brain damage, now 24, continues to experience side effects from her injuries. She is now a massage therapist, but constant headaches make the physical work quite difficult. Her mother believes she suffers from Post-Traumatic Stress Disorder.
Many people flock to the beaches of Florida year-round to escape colder temperatures and enjoy some fun in the sun. Most tourists partake in many water adventures, parasailing being one of them, however, many of them fail to recognize the potential dangers involved. Parasailing should be an enjoyable time, but without proper safety measures in place, these types of accidents can lead to permanent and life-threatening injuries, including traumatic brain injuries, spinal cord trauma, back injuries, head injuries, paralysis, broken bones, death from falls and even drowning.
There are many careless acts of negligence that can result in parasailing accidents, including:
Equipment  Failure – This can include malfunctions with the boat, harness, towline or sail
Improperly Trained Staff
Absence of Safety Measures
Unlicensed Company or Operator
Operator Negligence
Unsuitable Parasails
Staff Failing to Monitor Weather Conditions or Stay Updated on Alerts
Boat Operators Moving too Close to Other Boats and Structures
Staff Failing to Demonstrate Proper Safety Techniques to Passengers
Even though the parasailing industry is highly unregulated at the moment, this does not mean that parasailing operators cannot be held legally liable for damages when negligence played a role in the accident. If you or a loved one was injured or killed in a parasailing accident throughout the state of Florida, a Florida Personal Injury Attorney at Whittel & Melton can help you hold the at-fault party responsible for their careless or reckless actions. For a free consultation to discuss your claim and legal options, please call us today statewide and toll-free at 866-608-5529 or contact us online.