A Kissimmee biker was ejected from his motorcycle and killed in a hit-and-run crash Tuesday morning that shut down eastbound Interstate 4 for almost four hours, resulting in a traffic backup of at least five miles.
Law-enforcement officers are currently looking for the motorist that fled the scene of the lethal collision. Police are searching for a gray pickup, possibly a Ford F250 or F350, that they believe ran over the 47-year-old motorcyclists and kept going, according to the Florida Highway Patrol.
Police are also keeping an eye out for other drivers who may have hit the biker.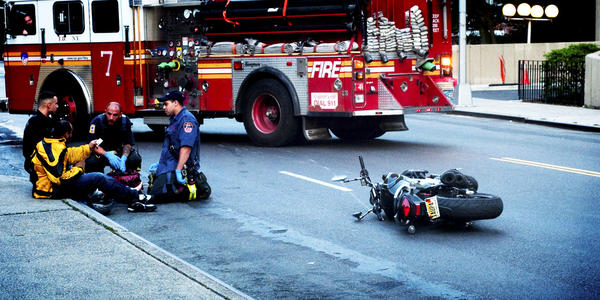 The crash occurred shortly after 7 a.m. when a car travelling east in front of the motorcycle struck road debris that flipped a strip of blown-out tire into the air, according to a Florida Highway Patrol spokesman.
The debris hit the motorcyclist in the head and knocked him off his Yamaha bike near Osceola Parkway.
The motorcycle came to rest on the grassy shoulder about a half-mile from the crash.
Troopers reopened I-4 just before 11 a.m.
Hit-and-run motorcycle collisions are becoming increasingly common in Florida and throughout the United States. According to statistics from the National Highway Traffic Safety Administration, hit-and-run motorcycle accidents have actually increased a staggering 15 percent throughout the last decade. Even more disturbing is that the NHTSA reports that hit-and-run car and motorcycle accidents account for up to 700,000 collisions each year.

Hit-and-run motorcycle accidents are unique in that they usually involve both civil and criminal charges. In Florida, when a driver leaves the scene of an accident, they face very serious consequences. A driver may choose to flee the accident site for a variety of reasons, including drunk driving, driving with a suspended license, recklessly speeding and even not having car insurance. Regardless of the reason the negligent motorist fled, victims and family members of those killed in a hit-and-run accident can still recover for their losses. A Florida Motorcycle Accident Lawyer at Whittel & Melton can help you pursue an uninsured motorist claim for personal injury or wrongful death if the driver of the motor vehicle who caused the accident is never identified. We will fight aggressively to make sure you get what is rightfully yours.
Motorcycle accidents are already upsetting to victims and their families without the added stress of a hit-and-run. Contact a Florida Motorcycle Accident Attorney at Whittel & Melton online or call us statewide and toll-free at 866-608-5529 to discuss your options.
Photo credit: roeyahram / Foter / CC BY-NC-ND