Reports indicate that a motorcycle rider crashed into a truck on Sunday driven by Leesburg City Commissioner Jay Hurley.
The motorcycle rider's identity has not yet been released, but he was treated on the scene and flown to Orlando Regional Medical Center.
The Leesburg Police Department asked the Florida Highway Patrol to help investigate the collision since it involves a top city official.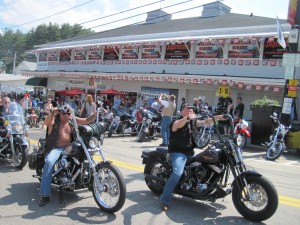 No preliminary fault has been assigned to either party, according to a police spokesman.
Police and emergency personnel responded to the accident Sunday morning. According to police, the crash involved a Ford F-150 pickup truck and a Yamaha motorcycle outside of a Sunoco gas station near the Gator Harley-Davidson dealership on U.S. Highway 441. Both vehicles were apparently traveling south on U.S. 441 when the truck driven by Hurley turned right into Gator-Harley, and the motorcycle slammed into the right passenger side of it.
According to officials, two lanes of U.S. 441 were closed for about four hours because of the accident. No charges have been filed yet, but an investigation is still underway.
Hurley  won office in 2012, and before that he had been a police officer for 15 years, and served as reserve officer with the city of Eustis.
Four other crashes were reported Friday, and a fifth on Saturday.
Bikefest started Friday and brought around 250,000 bikers into the city. The final day of the 18th annual Leesburg Bikefest was Sunday.
When more motorcycles are present on highways and streets this usually means one thing – more motorcycle accidents resulting in serious injuries and fatalities. Many of these motorcycle collisions are the result of distracted or negligent drivers of other cars, trucks or SUVs who fail to notice motorcyclists'. A vast majority of motorcycle accidents are also caused by motorists operating a vehicle under the influence of alcohol or drugs, drivers who cut off motorcycle riders by turning in front of them and numerous other acts of recklessness or negligence that often end in disaster. If you or someone you love has been hurt or unexpectedly taken from you in a motorcycle accident, a Florida Motorcycle Accident Attorney at Whittel & Melton can help you decide what steps to take next.
Have you or a family member recently been injured in a motorcycle accident? Do not wait to contact a Lake County Motorcycle Accident Lawyer at Whittel & Melton for a free consultation. Our Florida Injury Attorneys are ready to review your case without delay – call us today at  352-793-9330 or dial us statewide and toll-free at 866-608-5529.