Incident reports released by the Food and Drug Administration have cited that Monster Energy, a beverage that is highly-caffeinated may have caused five deaths within the last three years.
These reports were recently obtained under the Freedom of Information Act by the mother of a 14-year-old Maryland girl who passed away in December from a heart arrhythmia after she drank several cans of Monster Energy within two days.
In October of this year, the mother of that teenager filed a lawsuit against Monster Beverage claiming that the company failed to adequately warn consumers of the risks associated with its products.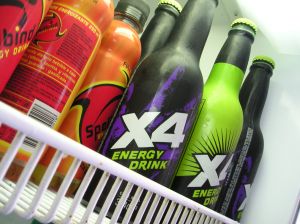 A spokeswoman for the company said its products were in fact safe for use, and not at all the cause of the teen's death.
Monster Beverage currently makes a variety of energy drinks with names such as Monster Rehab, Monster Assault and Monster Heavy Metal. According to labels on their containers, they are "not recommended" for some consumers, including children and people "sensitive" to caffeine.
In general, healthy adults can safely consume high amounts of caffeine from various beverages like coffee, tea and energy drinks, but since caffeine acts as a stimulant, consuming large quantities can pose risks to those with underlying conditions such as heart disorders.
The Maryland teen apparently drank a 24-ounce can of Monster Energy that contains 240 milligrams of caffeine.
The lawsuit filed on behalf of the teen referred to autopsy and medical examiner reports that said she died of "cardiac arrhythmia due to caffeine toxicity" that had intensified an existing heart condition. The report indicated the teenager had Ehlers-Danlos syndrome, which can affect blood vessels in the body. The 14-year-old was apparently aware she had an underlying heart problem, but the family said her doctors had not warned her to limit physical activities or reduce her caffeine use.
Most energy drinks like Monster Energy, NOS, Red Bull and others contain possibly hazardous levels of caffeine and other stimulants like guarana and taurine. The side effects of energy drinks can pose serious life-threatening health problems to consumers, especially children and young adults. Research suggests that energy drinks have significantly increased in popularity over the last 10 years. In fact, it has been estimated that between 30 and 50 percent of children and young adults consumer energy drinks on a regular basis.
Current F.D.A. rules do not require companies to disclose caffeine levels in their beverages. Companies also have the option of marketing products as drinks or as dietary supplements.

When a manufacturer fails to warn consumers of any potential risks associated with their products, financial compensation may be pursued. A Florida Wrongful Death Lawyer at Whittel & Melton can provide free case evaluations to families that have lost loved ones due to health problems suffered after drinking an energy drink.
If someone close to you suffered from a heart attack, cardiac arrest, cardiac arrhythmia or wrongful death after consuming a Monster Energy or any other type of energy drink, contact a Florida Accidental Death Attorney at Whittel & Melton today online or call 1-866-608-5529 for a free no-obligation consultation. We can foster a legal strategy to help you recover compensation for your loss.