Two passengers were killed and three critically injured last weekend when a too-tall charter bus crashed into the bottom of a concrete over pass at Miami International Airport.
The bus driver drove into the overpass despite multiple warning signs that told drivers the overpass could only accommodate vehicles under 8-feet-6-inches tall. The driver drove his 11-foot-high bus into the overpass, instantly killing an 86-year-old man and causing a 56-year-old man to die from injuries later at the hospital.
In total, three people were listed in critical condition. The 27 remaining passengers sustained various non-life threatening injuries.
Reports indicate that the bus was privately owned and had been chartered by the Sweetwater Kingdom Hall of Jehovah's Witnesses church. The 32-person church group was headed to a convention in West Palm Beach.
The bus is owned by Miami Bus Service Corp. The company owns a total of three buses.
Federal Motor Carrier Safety Administration records show the company has had no previous violations for unsafe driving or controlled substances and alcohol. However, records did show the company received three citations related to driver fatigue in April 2011.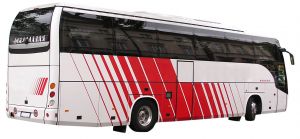 While bus accidents are not common occurrences, when these accidents do happen, they can bring immense tragedy. Hundreds of people every year are killed or seriously injured in bus accidents. Sadly, the injuries sustained in these types of accidents are often more devastating than injuries suffered in passenger vehicle accidents. This is partially due to the fact that most buses fail to provide passengers with seat belts.
Bus accidents can be caused by many factors, but primarily these accidents occur when bus companies fail to abide by safety protocols, improperly train drivers or fail to properly maintain their buses.
The injuries a passenger may suffer following a bus accident can range in severity, from minor to life-threatening and may include the following:
• Sprains
• Burns
• Abrasions
• Fractures
• Internal Injuries
• Traumatic Brain Injuries
• Loss of Limbs or Disfigurement
• Wrongful Death

The owner of a privately owned bus, such as the one in this accident, has a duty to maintain safe modes of transportation. Bus drivers must also exercise a certain level of safety. When a company or bus driver fails to live up to its responsibilities, their negligence could result in innocent people being killed or seriously harmed. A Florida Auto Accident Injury Attorney at Whittel & Melton can immediately investigate the events surrounding your accident and help you recover financial damages. We work hard to make sure your legal rights are protected and that you receive the maximum compensation for your injuries, medical bills, rehabilitation and pain and suffering.
For a free consultation and to learn more about your rights, contact a Florida Injury Lawyer at Whittel & Melton online or call us statewide and toll-free at 1-866-608-5529.