Six people were killed in a collision with a train in Plant City on Sept. 23, and another was seriously injured and expected to survive the crash.
There is a stop sign placed at the railroad crossing where the fatal collision took place, but there is no signal light or crossing arms. The Hillsborough County Sheriff's Office is still looking into why the motorist did not stop.
A Hillsborough County commissioner is considering installing signals and crossbars at each train intersection in the county in the wake of the fatal collision. According to Commissioner Michael Owen, whose district includes Plant City, there are 19 junctions in the county that just have a stop sign and no flashing lights or crossing arms, including the one where the accident occurred.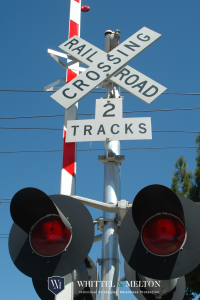 Owen intends to ask the board's legal division to investigate what might be done to make those crossings safer during the next commission meeting. The board must first determine what they can do legally because the crossroads where the deadly collision happened on September 23 is located on a private road, according to Owen.
A sudden loss of family members can be devastating, making the task of seeking out a competent wrongful death lawyer much more challenging. You need an experienced wrongful death attorney who is also compassionate and not afraid to obtain the results you need and deserve.
Our Florida Injury and Wrongful Death Lawyers at Whittel & Melton want to get you the economic and non-economic damages you are entitled to, including:
Medical bills
Wage loss – both now and in the future
Funeral costs
Loss of consortium – love, companionship, mentoring, etc.
Financial support
A knowledgeable Florida Wrongful Death Lawyer will know how to properly investigate the accident and gather the testimony and evidence required to establish the cause of death and pinpoint who is responsible. It can be difficult to think about these things when you are mourning the loss of a loved one, but it is essential to take immediate action. Our Florida Wrongful Death Lawyers at Whittel & Melton are sensitive, knowledgeable, and experienced in dealing with the legalities of defending your rights amid such a trying time.
There is no cost to you to hire one of our wrongful death attorneys because we work on a contingency fee basis. We do not get paid unless we have helped you win a settlement or verdict.
Call us today at 866-608-5529 or contact us online to request a free consultation. We can begin helping you right away.