The Wall Street Journal has predicted that the aftermath of Hurricane Ian will prompt a legal battle between Florida home insurers and struggling, underinsured homeowners.
It is anticipated that homeowners will turn to the court system to try and secure payments for wind and flood damage that homeowner's insurance carriers will say they are not legally obligated to pay out. The key issue is whether home insurers are wrongly avoiding wind damage claims by blaming flooding (flood damage has been excluded from standard homeowner's policies for decades) for these damages. Fewer than one-third to a little over 40% of homeowners in the cities of Sanibel, Cape Coral, Naples, and Fort Myers, in addition to other areas along the southwestern coast that were hit the hardest by Hurricane Ian, are covered by flood insurance policies.
Now, industry experts are predicting that insurance will become less available in regions like Florida as insurers are projected to go bankrupt, forcing homeowners into delinquency.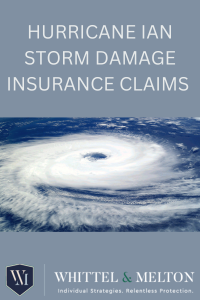 Recovery from Hurricane Ian is predicted to be difficult and delayed. Why? High interest rates, inflation, labor and material costs, and pending litigation all play a role in complicating Hurricane Ian storm damage claims.
Experts anticipate storm damage claims from Hurricane Ian taking more than a year to close out.
According to U.S. property data and analytics company CoreLogic, insured losses for Florida from Hurricane Ian are somewhere between $28 billion and $47, potentially making this the costliest storm for the Sunshine State since Hurricane Andrew in 1992.
What Should You Do if Your Hurricane Ian Insurance Claim is Denied? 
If your Hurricane Ian insurance claim is denied, then you need to take appropriate action and challenge the denial. As the policy holder, you have the right to file an internal appeal, which means you can request another insurance adjuster to review the initial decision with fresh eyes. If this is not successful, then taking legal action to request fair payment for the original damage and additional funds for expenses that have accumulated due to delays is your best recourse. The court can review all the facts of your claim and determine if the insurance company is in breach of their policy by refusing your claim.
If the court finds in your favor, then your insurance provider will have to pay you a disclosed amount and possibly other damages if they acted in bad faith. Our Florida Hurricane Ian Insurance Claims Lawyers at Whittel & Melton can help you gather all necessary evidence in order to present valid proof of the full value of the claim and what money you are entitled to.
Our Insurance Disputes Team at Whittel & Melton Are Here to Help After Hurricane Ian
You should call us now at 866-608-5529 or request a free consultation online. While some Floridians may have positive previous experiences dealing with their insurance companies, Hurricane Ian is a gamechanger and you will likely need help recouping for all your losses. We want to help you achieve a favorable resolution with your insurance company in a timely manner.
We are available Florida statewide for all Hurricane Ian wind, storm, or flood damage claims. Contact us 24/7.