The Atlantic hurricane season of 2023 has come to an end. This season, with 20 named storms, will rank as the fourth busiest since 1950. 2023 saw record-warm Atlantic sea surface temperatures and significant El Niño-influenced activity.
Of the 20 storms that were named during this year's hurricane season, seven developed into hurricanes. Three became powerful hurricanes.
Just one of the three named storms that made landfall in the United States was a hurricane – Hurricane Idalia. On August 30, the hurricane made landfall near Keaton Beach, Florida, with maximum winds of 125 mph, classified as a Category 3.
Harold and Ophelia were the other two named storms to make landfall in the United States. On August 22, Tropical Storm Harold touched down on Padre Island, Texas, bringing torrential downpours over northern Mexico and South Texas.
On September 23, Tropical Storm Ophelia made landfall close to Emerald Isle, North Carolina, bringing severe winds, a substantial storm surge, and river flooding to eastern North Carolina.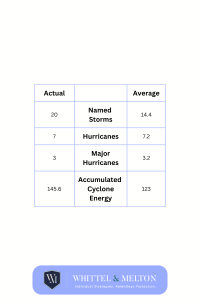 On September 16, Hurricane Lee became a post-tropical storm before hitting land in Nova Scotia, Canada. It caused severe surf and rip currents to the entire U.S. Atlantic coast, and hurricane-force winds to Maine and the Canadian Maritimes.
A metric called accumulated cyclone energy (ACE) is used to quantify the activity of both individual tropical cyclones and entire seasons of storms. More details about it are available here.
Activity this season has been above average, most likely due to record-warm sea surface temperatures in the Atlantic. This year's severe El Niño was counterbalanced by the warm water temperatures.
Historically, El Niño conditions have suppressed tropical activity by influencing upper-level winds in the Atlantic basin. According to the National Oceanic and Atmospheric Administration (NOAA), the Atlantic basin produced the most named storms in 2023 than any other El Niño-influenced year on record.
The names that were in use in 2023 are listed here. In 2029, this list—aside from any names that are retired—will be utilized again.
Tropical Storm Arlene
Tropical Storm Bret
Tropical Storm Cindy
Hurricane Don
Tropical Storm Emily
Hurricane Franklin
Tropical Storm Gert
Tropical Storm Harold
Hurricane Idalia
Tropical Storm Jose
Tropical Storm Katia
Hurricane Lee
Hurricane Margot
Hurricane Nigel
Tropical Storm Ophelia
Tropical Storm Philippe
Tropical Storm Rina
Tropical Storm Sean
Hurricane Tammy
Residents of Florida have always experienced severe disruptions from hurricanes, but in 2023 and the upcoming years, there could be even greater risks. The state is likely to continue to see an increase in storm activity, bigger hurricanes, and persistent winds and rain. It is critical to be equipped to withstand any storm.
Be aware of the possibility of increasingly severe hurricane seasons, and share this information with your local friends and neighbors to develop relationships and remain safe. When it comes time to file a lawsuit for personal injury or wrongful death, or to settle an insurance claim, be ready to contact an experienced hurricane lawyer.
Your chances of speeding up your recovery after the storm are stronger the sooner you get legal representation. With multiple locations in Florida — from Gainesville to Miami — our Florida Hurricane and Storm Damage Attorneys at Whittel & Melton are ready to help you recover after a storm. We have the expertise to assist you in obtaining what you are legally entitled to, regardless of whether you are facing severe property damage, severe injuries, or the tragic aftermath of a fatality. Continue reading