A mother passed away Saturday after crashing the motorcycle she was riding while on a memorial ride for her son, who suffered the same fate just one month earlier. 
The 51-year-old woman was riding a 2012 Honda CBR along with about 80 other bikers when a horse jumped into the road and caused her to swerve and ultimately lose control of her bike and crash into a ditch. The accident reportedly occurred around 12:30 p.m. 
The woman was wearing a helmet and was transported to a hospital where she was pronounced dead. 
Reports did say that investigators believe excessive speed played a factor in the crash.
The woman's son, 23, died April 5 in a motorcycle crash. The bikes she was riding at the time of her motorcycle crash was one of his.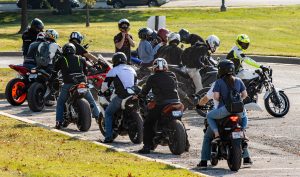 Thousands of Florida motorcyclists ride the roads of Florida, pretty much year round. While these riders have the joy of travelling the open roads whenever they'd like, they are at a higher risk of being involved in accidents that can result in serious and debilitating injuries. Motorcycle riders are not allotted the same protections as a driver of a car, like a large steel frame and airbags, so when riders are involved in a crash they can easily suffer from a wide range of injuries like broken bones, brain damage, internal bleeding, road rash, amputated limbs, neck and back injuries, shoulder and knee injuries, and even death. When these serious injuries occur from a motorcycle crash, our Florida Motorcycle Accident Lawyers at Whittel & Melton are here to help.
It is true that some motorcycle accidents cannot be prevented, but there are far too many of these types of collisions that are caused by negligence. Motorcycles are less visible to other motorists and also less stable than four-wheeled vehicles. Riders are also more susceptible to the weather and other road conditions than drivers of cars. If another careless or reckless driver caused or contributed to your motorcycle crash in some way, then it can be quite beneficial to speak with our Florida motorcycle accident law firm. Our Florida Motorcycle Accident Lawyers at Whittel & Melton specialize in motorcycle crash claims.
How Many Motorcycle Accidents Result in Death? 
The most recent data that is available from the National Highway Traffic Safety Administration (NHTSA) shows that 5,014 motorcyclists were killed in motorcycle wrecks in 2019. This number is actually down from the 5,038 people killed in motorcycle crashes in 2018. 2019 data from the NHTSA also shows that motorcyclists were about 29 times more likely to die than passenger car occupants per vehicle miles traveled.
How Many Motorcycle Accidents Result in Injuries? 
Injuries suffered across the U.S. in motorcycle crashes are quite significant as well. In 2019, the NHTSA reported 84,000 injuries from motorcycle wrecks. This is an increase from the 82,000 reported injuries in 2018. 
What Are the Most Common Causes of Motorcycle Crashes? 
Motorcycle accidents can be caused by many factors, but the most common can be chalked up to motorist negligence, such as failing to yield to a biker and failure to look out for a biker. Aggressive driving, speeding, driving under the influence of drugs and/or alcohol, and distracted driving are the other common reasons why motorcycle accidents occur. 
How Can I Stay Safe On My Motorcycle? 
Ultimately, it is the responsibility of the motorcyclist AND other drivers sharing the road to keep everyone safe. Motorcyclists who focus on the road and take proper safety precautions can limit their risk for being harmed in an accident, and there are various safety tips that all riders should incorporate into their routine, including:  
Get proper training before handling a motorcycle. In Florida this means that you need a valid Class E operator's driver license and you are required to complete a Basic RiderCourse (BRC) or Basic RiderCourse updated (BRCu) with an authorized Sponsor. Within a year of passing the course, you are required to obtain your endorsement. 

Many states have universal helmet laws, but Florida gives you the option of wearing one if you are over the age of 21 and carry $10,000 of Medical Payment Insurance. Regardless of the laws, our Florida Motorcycle Lawyers at Whittel & Melton encourage everyone to protect themselves and wear a helmet. 

Avoid riding in bad weather, as this can make it harder for you to see and be seen by other drivers. On that same note, wet pavement reduces the friction between tires and pavement, which can cause riders to lose control of their bikes much easier. 

Lane-splitting increases the chances of being involved in a serious accident, so it is advised to avoid doing this.  

Wear bright colored clothing to enhance your visibility to other drivers. 

Follow the speed limit. 

Never take your bike out when intoxicated. 

Do not text and try to operate your bike. 
Regardless of being as safe as possible, accidents still happen. Motorcycle crashes can lead to very serious injuries and death that can impact you or a loved one for the rest of their life. Our Florida Motorcycle Accident Lawyers at Whittel & Melton can help you understand your rights after a motorcycle accident. Call us now at 866-608-5529 or contact us online to learn more about how we can help you.