Memorial Day Weekend is here and a favorite holiday of many Americans as it serves as a time to remember and celebrate the men and women who have proudly served our country and defended our freedom as well as provides most with some extra time off from work. The plus side to this holiday is that you may get to spend some much needed time with friends and family, but the downside is that Memorial Day Weekend is one of the most dangerous weekends to be on the roads in the United States due to a surge in motor vehicle crashes, including motorcycle accidents. 
The National Safety Council (NSC) estimates that 415 people may lose their lives on U.S. roads for the 2021 Memorial Day Weekend holiday period from 6 p.m. Friday, May 28 to 11:59 p.m. Monday, May 31. While this number is only an estimate, the NSC has a 90% confidence interval for roadway deaths this holiday weekend ranging from 337-502. The impact of COVID-19 has increased the NSC's estimates for the number of roadway deaths this year, according to their reports. 
What Makes Memorial Day Weekend So Dangerous?
Increased Drivers/Motorcyclists on the Roads:

As America starts to bounce back from COVID-19 and reopen, 37 million people are expected to travel this Memorial Day Weekend, according to

CNN reports

. A

AAA Memorial Day travel forecast for 2021

expects a 60% increase of travelers this year compared to last year heading out on the road traveling 50 or more miles from their homes. The confidence boost to get out this year coincides with about 50% of the American population having at least one dose of a Covid-19 vaccine. Road travel is still slated to be much higher than air travel this year, and popular destinations include Orlando, Myrtle Beach, Denver, Las Vegas, South Carolina, and Nashville. 

Unfamiliar Territory for Motorists/Motorcyclists:

Motorcyclists and auto drivers alike heading out on road trips might be travelling to new places, making this unfamiliar terrain. For many, unfamiliar places can result in overly cautious driving or more reckless driving, both of which are known to cause serious accidents.

Drivers Operating Under the Influence of Alcohol or Drugs:

Drunk or drugged drivers on the roadways are always a potential threat, but this drastically increases over a holiday weekend. According to NSC data for the latest year available (2018 Memorial Day period), 37% of fatalities involved drivers who were operating under the influence of alcohol. Extended holiday weekends often lead to celebrations with alcohol, so it is quite common for motorists to lose track of their sobriety and get behind the wheel of a car after a day/night of partying.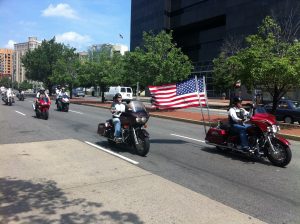 How Can You Avoid a Memorial Day Weekend Motorcycle Accident? 
While you can do everything in your power to be safe and drive responsibly, everyone must do their part. The following safety tips can keep you and others sharing the roads safe this Memorial Day Weekend. 
Expect an Increase in Traffic:

You can expect to see more drivers on the road this Memorial Day Weekend, so plan accordingly. It will likely take you longer to get to and from your destination, so give yourself plenty of time to get to where you are going so that you don't have increased stress or anxiety from being rushed. 

Wear Proper Safety Gear:

This is essential for motorcyclists safety. Don't travel without your helmet and protective clothing, like jeans, durable boots, a reflective jacket, gloves and face/eye protection. 

Stay Off Roads at Night:

Accidents can happen at any time throughout the Memorial Day weekend, but many crashes happen later at night/early morning hours when people are heading home after a night of partying. Staying off the roads at night can prevent you from being harmed in an accident with a drunk or drugged driver. 
What Should I Do If I am Involved in a Memorial Day Weekend Motorcycle Crash?
As we mentioned before, you can take every safety precaution possible, but you cannot control other drivers. If you are involved in a motorcycle accident with another driver this holiday weekend, our Florida Motorcycle Accident Lawyers at Whittel & Melton will be available 24/7 for legal guidance and support. You can reach out to us anytime this holiday weekend by dialing 866-608-5529 or contacting us online. We will provide you with a free consultation and help you understand what steps you should take next.