A biker was killed in a fatal wreck involving a large truck on Interstate 4 in Polk County on Monday night around 7:30 p.m.
Reports indicate that the 52-year-old motorcyclist was riding his 2015 Harley Davidson heading west in I-4 when a trooper who was assisting a construction crew crashed into him. The biker was thrown from his Harley Davidson motorcycle and landed in the path of a big rig, which ran him over.
The motorcyclist was pronounced dead at the scene, according to troopers.
The trooper and the driver of the tractor trailer were not harmed in the crash.
The Federal Motor Carrier Safety Administration (FMCSA) has compiled data involving collisions with large trucks for the latest year available – 2018. They have recorded approximately 499,000 large truck accidents for 2018, with 4,415 fatalities and 107,000 injuries. Most fatal accidents involving semi-trucks occur on Interstates and at night between 6:00 p.m. and 6:00 a.m. For 2018, the majority of fatal truck accidents (82%) did not involve any occupants of the large truck.
Truck transport is growing by the day in the United States, and 70% of all products reach their destination by some type of delivery truck. With so many trucks on the roadways, we have seen a surge in accidents and injuries caused by these enormous vehicles carrying all sorts of cargo. Due to their size and weight, large trucks can cause very serious injuries when a crash occurs, such as traumatic brain injuries (TBIs), spinal cord damage, broken bones, internal bleeding, head and neck injuries, and more. If a person is lucky enough to survive a crash with a big rig, then they are most likely looking at immediate medical attention and numerous surgeries, which can become quite costly rather quickly.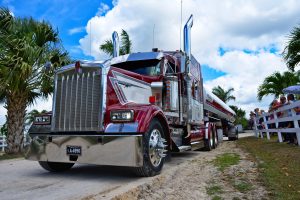 A large truck is classified by the National Highway Traffic Safety Administration (NHTSA) as any vehicle that weighs over 10,000 pounds. The vast majority of truck accidents are not caused by drugs or alcohol, but rather mechanical defects, driver's switching to new routes, and truck driver fatigue. Issues with tires, wheels, steering wheel defects, brakes, and the weight of the truck are all top contributors of crashes. Large trucks weigh much more than a normal vehicle, and sometimes large trucks surpass 40 tons where a regular passenger vehicle weighs approximately 2.5 tons. Because of the weight of their cargo, large trucks require a greater stopping distance than a traditional passenger vehicle, especially when cargo Is not loaded properly and evenly. While a passenger vehicle may only need 300 feet to come to a complete stop after hitting the brake, a large truck usually needs double that length – around 525 feet – in order to completely stop.
Big rigs injure or kill a person every 15 minutes in the U.S. This adds up to a great deal of accidents, injuries, and deaths. If you or a loved one has been involved in a crash with a large truck, you may be wondering what you can do to hold the at-fault driver accountable for your suffering. Our Florida Truck Accident Lawyers at Whittel & Melton are here to help guide you through the recovery process. We can be the ally you need during this difficult time, not just your legal advocate. We understand how devastating these accidents are and will listen to your side of the story and take the stress of these situations off your shoulders so that you can focus on what is truly important: getting better.
Truck accidents are quite different from traditional car accidents. When you are involved in a crash with another driver, it is usually that driver that you file a suit against. Trucking accidents can have multiple parties that are responsible, such as the truck driver, the truck company, the loading company responsible for the cargo, the manufacturer of the truck parts, and the maintenance crews responsible for safety inspections. Truck accidents can also involve both state and federal laws, further complicating these matters. You need an attorney who knows trucking regulations and laws and has the resources needed to fight for the full and fair compensation you deserve.
Your truck accident may require a slew of experts who can testify on your behalf to show what you are dealing with from the accident. We have experts in the fields of traffic engineering, accident reconstruction, medical experts, forensic experts, and doctors on hand who can help us build us an ironclad case so that you recover maximum financial compensation. Call us today at 866-608-5529 or 727-823-0000 to set up a free case evaluation. You can also contact us online 24/7.