A runaway trailer hauling crushed cars in upstate New York slammed into a minivan carrying two families Thursday, killing four young children and three adults in their early 20s.
All seven victims, including four children under the age of 10, were local residents.
Officials believe the trailer detached from the big rig and crashed into the van, basically ripping it apart. Both vehicles came to a halt on the shoulder of the roadway.
The crash occurred along a stretch of the two-lane road in rural Truxton, a town of only 1,100 located a few miles northeast of the city of Cortland.
Police said a few of the victims were trapped under the trailer. It had to be jacked up to get them out.
The collision is still under investigation.
Another man was injured when the van he was travelling in was hit by a trailer that broke away from a truck on Route 13 around 6 p.m. Wednesday in the rural town of Truxton, just 25 miles south of Syracuse.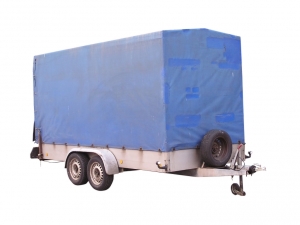 The injured man was transported to Upstate University Hospital in Syracuse. No information is available at this time on his current condition.
According to officials, two people in the truck suffered no injuries.
Route 13 was shut down until 1:20 a.m. Thursday while police investigated the cause of the crash and crews removed debris and wreckage from the scene.
Even though officials have yet to determine the exact cause of the accident, it is clear that something made the trailer come loose. Sadly, this tragic accident serves as a reminder to all of us just how important it is to make sure all items you are towing are secured safely, especially now that summer is here and travel season is official underway. It is important to be aware that not just commercial trucks and big rigs can have cargo that can easily detach. Any items being towed, like boats or campers, can come loose if not properly attached and ultimately hold you accountable for injuries, and even deaths.

If you or someone you love has been involved in a trucking accident in New York, you may be feeling overwhelmed and not know how to proceed. Trucking accident injury claims can be complex matters to resolve, but a New York Trucking Accident Attorney at Whittel & Melton can help. We understand the emotional and financial shock a trucking accident can cause. We also know the damages of a car versus truck collision, often resulting in severe injuries or wrongful death to the occupants of the car involved.
If a trucking accident has left you injured or taken a loved one from you, call 866-608-5529 or contact us online today for a free consultation to learn how we can provide you with the legal support you need. We work with experts who can reconstruct the accident scene and determine what caused the crash and whose negligence contributed to your trucking collision. Take the first step towards protecting your rights, and call us today.