An 8-year-old boy was seriously harmed after being struck by car while riding his bicycle, according to Tampa police.
The crash occurred at about 2:15 p.m. at the intersection of Linebaugh and Taliaferro avenues.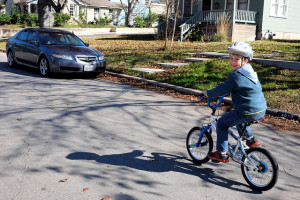 Police believe the boy was riding his bicycle north on Taliaferro Avenue when he rode into the vehicle's path. Witnesses claim the driver was not speeding at the time.
Police allege the boy was not wearing a helmet at the time, and that some of his injuries appear to be from hitting his head on the pavement.
The boy is currently being treated at Tampa General Hospital.
Bicycle accidents typically involve a drunk or distracted driver. Sometimes these accidents are the mistake of an inexperienced motorist. The sad reality is that bicycle collisions with cars account for a large amount of catastrophic injuries and wrongful deaths on Florida roadways. Driver negligence often plays a part in these crashes, usually consists of running a stop sign, driving under the influence of drugs or alcohol, failing to yield to the biker or being inattentive while backing out of a driveway.
A bicycle accident can cause severe emotional trauma in addition to physical injury. A human body on a bicycle is hardly a match for a powerful automobile or impact with hard pavement. Even the most experienced bikers can be injured in one of these accidents.
If you have been injured in a bicycle accident in Florida, you could be entitled to financial recovery for:
Medical bills
Lost Wages
Loss of Earning Capacity
Pain and Suffering
Emotional Distress
Disfigurement
If you or a loved one sustained serious injuries in an accident caused by someone else, a Florida Injury Lawyer at Whittel & Melton can advise you on your legal options. Whether you have suffered broken bones, fractures, scrapes or bruises, you should be aware of your rights. Call us today at 866-608-5529 or contact us online for a free consultation.