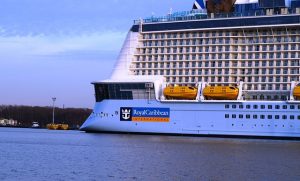 Two Royal Caribbean crew members — one from the Symphony of the Seas and one from the Oasis of the Seas — were "medically evacuated" from their respective ships Monday at Port Everglades, the cruise line confirmed.
Even though Royal Caribbean would not confirm whether the members have been diagnosed with COVID-19, a spokesman for the company said the crew members were evacuated "for observation and treatment of respiratory issues."
Ellen Kennedy at Port Everglades said: "It's a Coast Guard mission. Port Everglades is not involved."
Late Monday the Coast Guard confirmed that Coast Guard Sector Miami watch standers monitored two medical evacuations, one from each of the cruise ships. "The vessels arranged commercial transfer ashore of each patient for further transportation to local area hospitals," the Coast Guard said.
Both ships were located just outside the port Monday. Royal Caribbean canceled all cruises March 13 because of the novel coronavirus pandemic.
According to the Miami Herald, a crew member on Oasis said Monday that "the ship is coming into port due to a crew member who's really ill but not the coronavirus." 
It is known that there are 14 people on board who have tested positive for COVID-19.
Coronavirus & Cruise Ships
Cruise ship lawsuits involve an injury or illness of some kind. When only one person on board falls ill it can be difficult to prove fault with the cruise ship, making it tough to build a winning case. But, when a massive outbreak is involved, it can be much easier to prove that the cruise ship was at fault for the spread.
COVID-19, the novel coronavirus currently classified as a global pandemic, has already caused lots of commotion on several cruise ships, and the virus was only discovered last December. As of now, lawsuits have started emerging against cruise ship companies for their negligence and recklessness in the way they handled the spread of the disease on board.
Falling ill on a cruise ship is already hard enough, but these warning signs could indicate there is a much bigger problem on board: 
How many other people on board are sick

If any passengers are quarantined

If the ship's hospital is at or over max capacity

If the crew issues any health warnings or announcements

If the crew members on board start taking extra precautions about spreading an illness 

If the ship deviates from its original itinerary in any way
Were you on board a cruise ship that failed to prevent the spread of the coronavirus while you were on board? Our Florida Cruise Ship Injury and Maritime Law Lawyers at Whittel & Melton can help you file your own lawsuit or join a current lawsuit, like those against the owner of the Diamond Princess and the Grand Princess.
Accidents on Cruise Ships are Common 
While the spread of the coronavirus on cruise ships is currently a new and widespread issue, accidents aboard luxury liners are nothing new.  
Other reasons for filing a lawsuit against a cruise ship may include one of the following scenarios: 
Food poisoning from food or another illness from unsanitary conditions

Legionnaires' Disease, which is caused by a bacterium which is common in settings like cruise ships

Medical malpractice

A passenger getting lost at sea or falling overboard 

Physical or sexual assault by a crew member or passenger

Slip and fall accidents

Swimming pool and waterslide injuries
Whittel & Melton Can Help You 
There are six cruise ship terminals throughout the state of Florida that thousands of people travel to and from every year. These include: 
PORT OF MIAMI (Miami)

PORT EVERGLADES (Fort Lauderdale)

PORT CANAVERAL (Orlando)

PORT TAMPA BAY (Tampa)

JAXPORT (Jacksonville)

PORT OF PALM BEACH (Palm Beach)
Cruise lines with ports in Florida include:
Carnival Cruise Line

Celebrity Cruises

Norwegian Cruise Line

Royal Caribbean International

Disney Cruise Line

Hapag-LLoyd Cruises

MSC Cruises

Virgin Voyages

Seabourn Cruise Line

Oceania Cruises

Azamara Club Cruise 

AIDA Cruises

Crystal Cruises

P&O Cruises 

Regent Seven Seas

Balearia Caribbean

Costa Cruises

Cunard

Holland America Line

Princess Cruises

Ritz Carlton Yacht Collection

Silversea Cruises
If you have suffered an injury or illness, including the coronavirus, while aboard one of these or any other cruise lines cruise ship, contact our Florida Cruise Ship Injury and Maritime Law Attorneys at Whittel & Melton as soon as possible. Cruise ship cases generally have a short and strict statute of limitations.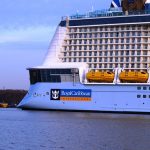 We are available 24/7 to help you take on the cruise line company and their legal team. We are aggressive in cruise ship injury and death cases and will stop at nothing to hold the at-fault cruise line responsible for their actions.