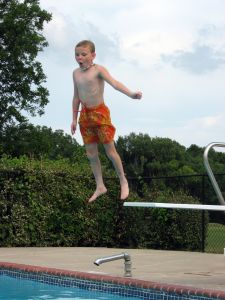 A 5-year-old boy remained in critical condition Wednesday after falling off a 10-foot diving board at an Altamonte Springs high school.
The child had apparently joined the aquatics team and was learning to dive.
According to police, the child slid under a handrail and fell off the side of the board around 4:45 p.m. Tuesday. He suffered severe head trauma after hitting the pool deck.
An estimated 13,000 diving-board related injuries occur every year that are serious enough to require emergency medical care, according to the Consumer Product Safety Commission. Diving board injuries can happen while mounting the board, while on the board or even during a dive off the board. Despite the causes, diving board accidents can result in severe and catastrophic injuries, including:
• Traumatic Brain Injuries
• Spinal Cord Injuries
• Neck and Back Injuries
• Broken Bones
• Paralysis
• Lacerations, Scrapes and Bruises
The medical care required to treat such debilitating injuries can be quite expensive. As the victim of a diving board accident on someone else's property, you may be entitled to recover monetary damages for your losses.

Depending on the circumstances surrounding a diving-related accident, several different parties may be held liable for a diving board injury. Negligent parties can be held accountable for a number of different reasons, such as failing to provide a safe swimming environment or for poorly supervising children on or around a diving board. Sometimes an accidental injury cannot be blamed on anyone. The Florida Injury Attorneys at Whittel & Melton can help you determine who is responsible for your diving board injury.
If you or someone you know has been injured in a diving board accident, contact the Florida Injury Attorneys at Whittel & Melton online or call us statewide and toll-free at 1-866-608-5LAW (5529) for a complimentary review of your case.