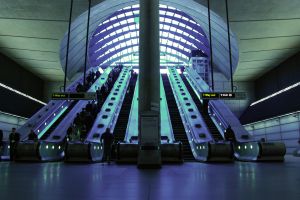 Houston, Texas — A 45-year-old fan attending last Thursday's preseason game between the Houston Texans and the Minnesota Vikings fell from an escalator to his death at Reliant Stadium.
According to reports, the fan fell due to horseplay. He was allegedly attempting to slide down the handrail on an escalator when he fell three stories to the pavement. He was taken to Memorial Hermann Southwest Hospital and was pronounced dead on arrival.
Houston officials are further investigating what they called an accidental death.
Stadiums, theme parks and arenas generally host all kinds of music concerts and sporting events that encourage rowdy and energetic behavior. This lively atmosphere combined with the consumption of alcohol can lead to serious injuries, and in some cases death. While an accident may be the result of careless or reckless behavior, the owner of the venue has a responsibility to provide a safe environment for visitors and spectators. Your injury could be the result of negligent security, an unsafe number of people in the venue or any other form of negligence.
The Florida Injury Attorneys at Whittel & Melton are equipped to handle various personal injury and wrongful death cases at amusement or theme parks, water parks, sports venues, concerts and other public events, including:
• Slips, Trips and Falls Due to Slipper or Wet Surfaces
• Equipment Defects
• Obstructed Walkways
• Poorly Maintained Buildings
• Falls from Elevated Heights
• Sexual Assault or Battery
• Parking Lot Injuries
Any accident at a stadium, concert arena or theme park can lead to serious injuries such as broken bones, spinal cord injuries, brain injuries, lacerations, head trauma, neck and back injuries and internal organ damage that can leave you or a loved one in extreme physical pain and left to deal with exorbitant medical bills. The wrongful death of a loved one can leave you and your family facing emotional and financial struggles you do not deserve.

You do not have to deal with your losses alone. If you have suffered a serious injury or have lost someone close to you at a stadium or any other public event, contact the Florida Injury Attorneys at Whittel & Melton online or call us statewide and toll-free at 1-866-608-5LAW (5529) for a free evaluation of your case.