More than 200 passengers on two cruise ships, Royal Caribbean's Legend of the Seas and Celebrity's Infinity, have fallen ill with norovirus. The CDC is now investigating the outbreak and monitoring clean up procedures on the two ships.
What is Norovirus?
Norovirus is a highly contagious virus that spreads through contaminated food, water and dirty surfaces. Similar to the stomach flu, norovirus can cause up to three days of stomach cramps, diarrhea and vomiting. This usually does not require treatment, but some people may become dehydrated and need liquids or intravenous fluids.
Cruise Ship Liability
Cruise ship passengers do have a bill of rights, but the terms of the ticket contract are what determine passengers' right to sue.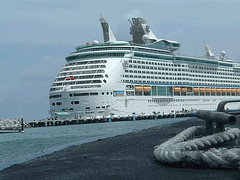 Under the contract, usually located on the back of the cruise ticket, passengers generally waive their right to sue unless the cruise company was negligent in some way. In order to show the cruise line was negligent, it must be demonstrated that the cruise line had a duty to reasonably care for its passengers, but breached that duty, which in turn, caused you harm.
A reasonable standard of care often translates to mean that the cruise company took adequate measures to clean rooms and restrooms, handled and stored food and water properly and made a reasonable effort to quarantine sick passengers to stop the spread of disease. Lastly, it must be shown that the cruise company's breach of duty is what caused your injury. In the case of norovirus, the cruise company may allege that you already had the virus when you came aboard the ship. It could even claim that you picked it up on shore during one of the stops. However, in this case, it will be quite difficult for Celebrity and Royal Caribbean to argue that the 200 passengers were already sick before coming onto their ships.
If you or someone you love has been infected with norovirus while on a cruise, our Florida Cruise Negligence Lawyers at Whittel & Melton can help you understand your legal rights. Please call us today at 866-608-5529 or contact us online for a free consultation.